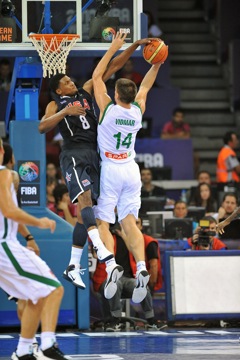 Posted by Royce Young
Team USA used pressure defense, a massive edge on the glass and some hot shooting to roll past a quality Slovenia squad 99-77 Sunday.
Kevin Durant
keyed things offensively for the U.S. with 22 on 8-13 shooting while
Kevin Love
anchored the interior with 10 points and 11 rebounds off the bench.
What worked for the U.S. today against Slovenia was again the formula the Americans have used in previous international games - defense that turns to offense. The U.S. forced turnovers and immediately went into the transition game, but the other thing they did was force almost all long jump shots which led to long rebounds and run-outs. Slovenia had NBA player Primoz Brezec on the inside, but a combination of Love and
Lamar Odom
did a solid job limited low post touches for the big Slovenian.
And while the U.S. is famously undersized with only one true center on the squad, they outrebounded a much bigger Slovenian team 51-24. Besides Love, Odom added nine boards,
Derrick Rose
six,
Russell Westbrook
five and Durant four. It was a lesson in team rebounding and Team USA had everyone hitting the glass, grabbing rebounds and then immediately breaking out into the open court.
Durant showcased how electric and unguardable he can be, scoring 22 points in only about two and half quarters of play. But again, his passing continues to be impressive. He finished with four assists, but as Slovenia focused more on Durant, he dumped off to teammates cutting to the basket. Everyone understands how ridiculous Durant can be as a scorer, but I think the NBA is about to be introduced to a much more well-rounded KD this October.
And while Durant was absolutely stellar, Kevin Love probably gets the game ball. He provided instant energy off the bench, fought on the glass and was able to give some semblance of a post game for the U.S.
Tyson Chandler
was brought on to play the big man for Team USA, but Love not only played his way into the regular rotation, but might be pushing for a starting spot.
Slovenia planned to rely on
Goran Dragic
to get his offensive game going, but never did get on track. The Phoenix
Suns
point guard only had seven points on only 2-8 shooting. Team USA focused on him, hounding him with a combination of Rose and Westbrook, a duo that never let Dragic breathe enough to get his offense going.
Things could have gotten a little tight for the States early as Slovenia cut an early 14-point U.S. lead to five early in the second quarter. The U.S. was in foul trouble almost across the board but weathered a quick Slovenian spurt and busted out of the halftime break with a quick 13-0 run which put Slovenia away.
Team USA will face its toughest test tomorrow against Brazil at 2:30 ET on ESPN.