James Harden was the difference in the Thunder's Game 2 win to tie the Western Conference Finals. Posted by Matt Moore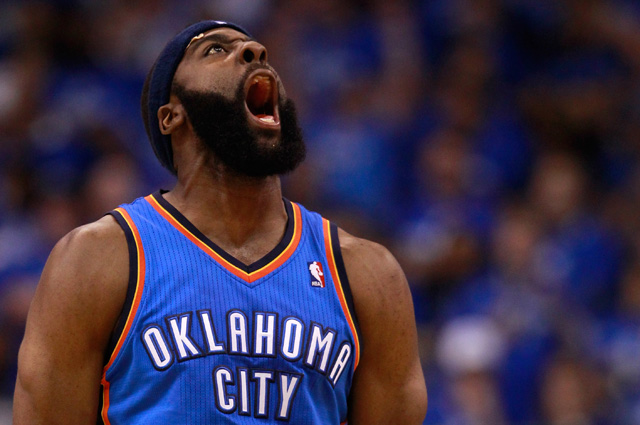 James Harden did not have a great first half of his season. He was passive, and struggled to find an identity in the Thunder's offense. But after nearly being traded at the deadline, Harden went on a tear. Then, in the playoffs, he hit another gear all together. That gear hit the absolute limit on Thursday night as Harden dropped an elite performance in the Thunder's Game 2 win over the
Mavericks
.
Harden scored 23 points on nine field goals, and added 7 rebounds, 4 assists and 2 steals with no turnovers in Game 2. Pull-up three-pointer and-one? Yeah, he got that. Driving layup in transition off a rebound coast-to-coast and-one? Indeed.
James Harden played above his ceiling Wednesday night. But it's only the ceiling for where he's at right now, as a 21-year-old role player on a young roster. It's probably closer to his career ceiling, as a potential No. 2 option on a championship-caliber squad. And it should be noted that, when give time this season,
he's produced 20-points-plus games
. But with all the rest of the production, you have to be a little concerned this was an outlier, just for where he's at right now. Harden may crash back to the earth, but if he doesn't, he's in position to be the difference between for the Thunder between a championship and a disappointing finish. If he produces even 75 percent of this production consistently, the Thunder will be nearly unstoppable. You can contain the Thunder when it's just Westbrook and Durant. But if they can counter with this kind of all-around brilliance from Harden, it's too much.
Harden's advantage in this series isn't just tricks and fireworks, though. The loss of
Caron Butler
for the Mavs rears its ugly head again as Dallas has no player to check Harden.
DeShawn Stevenson
,
Shawn Marion
, J.J. Barea,
Jason Kidd
,
Jason Terry
... no one matches up well on Harden, and he's exploiting it. Overplay him and he draws the foul. Give him space but cover the jumper, and he makes the perfect pass. There's not a combination of players or schemes Rick Carlisle can afford to throw at Harden, not with
Kevin Durant
and, most often,
Russell Westbrook
on the floor.
Harden's in his second year. This development shouldn't be accelerating as quickly as it is. But that's what teams need to make championship runs: for good players to play great. And that's what Harden's done in the face of a matchup advantage. If he keeps producing like this, Harden will get to see if he can duplicate his production in the Finals.