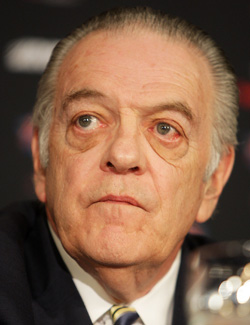 Knicks moving in closer on Carmelo Anthony. Again. Yes, it's different this time. We think.
Posted by Matt Moore
On Friday in his Post-Ups, Ken Berger shared the following update to the Knicks' pursuit of Carmelo Anthony:
While the Nuggets realize they will have to seriously engage the Knicks in trade talks for Anthony before the Feb. 24 deadline, a third team already has stepped into the on-deck circle as a potential facilitator if talks between Denver and New York ever gain traction. That team, sources say, is the Timberwolves, who are willing to absorb Eddy Curry's $11.3 million expiring contract in a three-team scenario that would send Anthony Randolph to Minnesota and Anthony to New York. In this scenario, which one executive involved deemed "unlikely," the Wolves would simply waive Curry after the trade. Depending on the timing, Curry would likely have only five paychecks remaining for a total of $4.7 million. So taking on Curry would involve little or no cost to Minnesota; if the Wolves could negotiate a $3 million buyout covering the remainder of Curry's salary, that tab would be fully picked up by the Knicks, who could send as much as $3 million cash to Minnesota in the trade. But Curry's $11.3 million cap number would help make the complicated trade math work in a three-team deal.
via
Only time will tell if Mavs have what it takes to win out West - NBA - CBSSports.com Basketball
.
Saturday night, Chris Broussard confirmed the report and added a few more specific names to the deal being discussed:
In the proposed trade, New York would send Anthony Randolph and Eddy Curry to Minnesota and the Timberwolves would send Corey Brewer and a first-round pick to Denver. Denver would also receive Wilson Chandler from New York. The deal is not expected to happen until the middle of next week at the earliest, and one source said it could drag out until the trade deadline. Denver, which has been exchanging proposals with the Knicks for the past couple weeks, is weighing other options.
via
Sources: New York Knicks, Denver Nuggets, Minnesota Timberwolves discuss Carmelo deal - ESPN New York
.
Ken Berger reports Saturday night that the deal has not progressed further since his report Friday afternoon.
This deal isn't a disaster. In a way, everyone gets what they want:
The Knicks get Melo.

The Timberwolves get Anthony Randolph who they inexplicably want.
The Nuggets get a viable veteran wing to fill-in for Melo in the hopes of keeping them in the playoff race. They also get Corey Brewer who's a capable wing defender and still young. The first round pick is a nice asset as well.
But there is some context here. The Knicks get away free here, turning Wilson Chandler, Eddy Curry and Anthony Randolph into Carmelo Anthony, which they've been after since the summer. The Wolves, though? Despite continuing issues between Brewer and his agent and Wolves' management, giving up on Brewer and a first rounder just to get Anthony Randolph and a little bit of cap space is a pretty steep deal. But the worst of this comes for Denver.
Should Denver accept this deal or be forced to accept this deal to avoid losing Melo for nothing, they go from the
Nets
' offer of
Devin Harris
, three first rounders and
Derrick Favors
for Melo and
Chauncey Billups
to Wilson Chandler, Corey Brewer, and one first rounder. That's a terrible downgrade in return. It would represent a tremendous loss of leverage if the Nuggets are cornered into this deal. The Nuggets had reportedly held the Knicks at arms-length based on their lack of assets. Thanks to the Wolves and Mikhail Prokhorov's cutting off talks, Donnie Walsh may have found a way to get Melo at the right price after all.
Kahn worked under Walsh with the Indiana
Pacers
from 1995 until 2004.