Miami Heat forward LeBron James came up small against the Chicago Bulls in Game 1. Posted by Ben Golliver.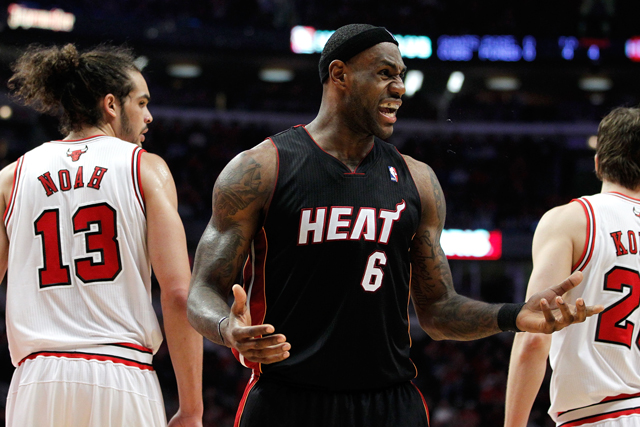 In Game 1, LeBron James showed up ready for the battle, but not the war.
Miami's All-Star forward closed out the Boston
Celtics
in memorable fashion, sending them packing with a dominant 10-point run that featured 3-pointers, a dunk and a crucial steal. It was James' two-way dominance on display, on a huge stage, for all to see.
James began Game 1 in much the same way, controlling the early game action on both ends. In the game's first minute, he registered a blocked shot, a rebound, a beautiful outlet pass to
Dwyane Wade
for a dunk, and a dunk of his own. For 60 seconds he was unstoppable. For the next 47 minutes he was as invisible as he ever gets.
James finished with 15 points on 5-for-15 shooting, six rebounds and six assists. Throw on top two steals and three blocks and that line could be no worse than average for most players. For James, though, it was his worst line since all the way back on Feb. 6, when he had just 12 points, six rebounds, four assists and six turnovers against the Los Angeles
Clippers
.
The pregame questions circled around how effectively Chicago would be able to defend James and Wade. They aced their first test, holding the duo to just 33 points on 32 shots, numbers that went a long way to ensuring Chicago's eventual 103-82 victory. As always, it was a five-man effort for the Bulls. And Chicago provided excellent secondary help behind forward
Luol Deng
, who, to everyone's surprise, outplayed James on both ends of the floor.
Bulls coach Tom Thibodeau was full of praise for Deng afterward
notes ESPNChicago.com
.
"Luol, you can count on him every night," Thibodeau said. "Luol is going to make him work.

"But Luol, it's not only his individual defense, it's his team defense. And I think it's critical for us. So it's not only when he's guarding LeBron with the ball, but when he's away from the ball, he fulfills his help responsibility so well. He can help, recover, challenge his shot and get back in and rebound. He does so many different things for us."
Deng was huge, but James shrunk too. With the game tied at the half, the Heat, and James in particular, simply did not explode out of the gates to take command of second half action. On the contrary, they got steamrolled by a 19-10 Chicago run. In the entire third quarter, James registered two points, two assists and one block. The game-dominating energy and focus simply weren't there. Chicago had ramped up and James was no longer dictating the game flow or the action.
There's no fear and plenty of fight in the Bulls, which puts the onus on James to exert his force and will in Game 2. The time for James to own the action for more than a minute is now.