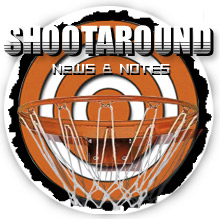 Posted by Royce Young
The NY Daily News on Melo the reality star: "For the past week, Melo has been promoting the show and partying in NYC and elsewhere, telling the Daily News that he's more focused on fashion week than basketball. One night he was hanging with R&B singer Chris Brown, another night he was checking out the Jay-Z/Eminem concert. You can't knock the man for enjoying his offseason, but you can assume he won't be in a Denver uniform for much longer, if at all. Now that the promotional tour is over - and now that we've realized Anthony's level of commitment to his wife's work - there is one question the Nets should be asking themselves: How badly do you want this player?"
Dan Gilbert told the Detroit Free Press he doesn't have regrets about his letter: "I just expressed what the Cleveland people were feeling. Unless you're from Cleveland and experienced what they have experienced since 1964, it's hard for the rest of the country to grasp."
Ira Winderman says he can see Miami eating Patrick Beverley's contract: "From the start, I have viewed the Heat's payment to Beverley as a thank you for agreeing to spend last season in Europe when the Heat was into the luxury tax (and therefore would have had to take a one-season hit for Beverley with the money it now will pay him over two seasons). With Butler, the Heat seems to be going to great lengths with a player who still has a long way to go in his rehab. Butler could be something special. Based on summer league, even in such a small sample, I'm not sure the same can be said for Beverley."
Alan Hahn of Newsday on the youth of the Knicks: "But the 2010-11 team will mark the youngest group the franchise has assembled to open a season in 30 years and fifth-youngest in franchise history. According to research compiled by the Elias Sports Bureau, you have to go back to Red Holzman's second stint as coach in the early 1980s, when the 1980-81 team, comprised of phenoms such as third-year star Michael Ray Richardson, supersophs Bill Cartwright and Sly Williams and three rookies, including Mike Woodson, averaged 24.5794 years of age."
Jeff McDonald of the San Antonio News-Express with a pretty terrific James Anderson profile: "On March 14, 2007, nearly all the 700 some-odd souls who call this flyspeck town straddling the Arkansas-Louisiana border home gathered in a small park near the high school football stadium. There, over plates of hot dogs and potato salad, they honored one of their most distinguished citizens. Junction City's inaugural James Anderson Day was equal parts church picnic and civic celebration. Unofficially, it would not be the last."