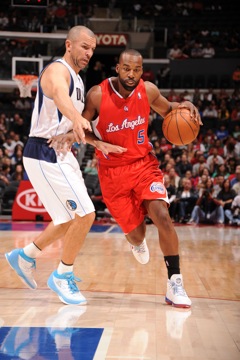 Posted by Royce Young
Have you seen
Eric Bledsoe
so far this season? The rookie from Kentucky has looked pretty terrific, most recently putting up 12 points and 13 assists in a loss to Denver Friday night. The
Clippers
have been watching obviously. And because of Bledsoe's play plus the fact
Baron Davis
is out of shape and potentially part of something the Clips want to begin moving past,
Yahoo! Sports reports
Davis may be on the trading block.
So who wants him? Who him, his out of shape body and his nearly $42 million contract that has three years left on it? Come, not everyone at once.
The Clippers may have Davis on the block, but that doesn't mean he'll be moved by any means. Not too many teams out there are interested in a washing up point guard that is often a locker room problem and only plays when he wants to. Plus, you've got to pay him big time for the next three seasons. Honestly, I can't think of a single team that would or should be interested.
Maybe there's potential to get a third team involved. Or maybe there's potential that Davis could be part of a
Carmelo Anthony
trade since the money works. Unlikely, clearly, but since I'm looking for
something
here, that's all I could come up with.
Davis has been out for a few games this season with a sore knee and as a result, Bledsoe has shown flashes of being able to handle the point guard duties while the Clippers rebuild. Because really, there's an exciting core there with Bledsoe,
Eric Gordon
and
Blake Griffin
. The Clips need to start moving on from some of the dead wood, but the problem is, they paid them too much to move them.
The shame is, when he's keyed in and ready to play, Davis can be as good as any point guard in the league. He can be a guy worth that remaining $42 million and someone to be part of building a contender in Los Angeles. Except, he came into the season out of shape and already appears to be tuning out Vinny Del Negro.
So while Davis may be up for grabs, I don't think you're going to see many hands go up to try and get him.