LeBron James apologizes for the way "The Decision" went down.Posted by Matt Moore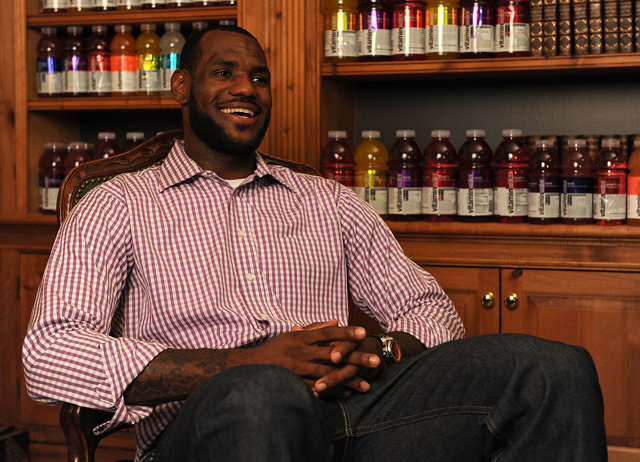 In his post-game comments following the
Heat
's
97-87 win
over the
Celtics
to win their series 4-1, LeBron James apologized for the way "The Decision" want down. James told reporters that he was sorry for how the one-hour special occurred, but felt that teaming up with Bosh and Wade in Miami was necessary to get past the Celtics. As
CBSSports.com's Ken Berger
reports, James told reporters:
"I knew I had to go through Boston at some point. I went through a lot signing to be here and the way it panned out. I apologize for the way it happened, but I knew that this opportunity was once in a lifetime."
James will continue to receive condemnation over the event, for his attitude, approach, and behavior. But after the game, he spoke candidly to TNT's Craig Sager about how much of a demon the Celtics represented to him:
"First of all thanks to the Boston Celtics, coach Rivers, that coaching staff, those player, they make you fight for everything. You can never take a second off. "
James was tortured by the Celtics, who swooped in after his 2007 Finals run and took over the Eastern Conference. Their own version of the Big 3
raised the bar for rosters
, leaving James frustrated with how his
Cavaliers
team compared. Right or wrong, James felt compelled to raise the talent around to him to a higher level. He did so, and on Tuesday night, that decision, "The Decision" proved to be the right one for his career agenda.
How he did it was wrong. It was always wrong, and somewhere inside him, James knew that, despite
refusing to apologize
for it in Cleveland earlier this year. It may seem easy to apologize now that he's made the Conference Finals and gotten past the Celtics, but for someone who has made so many P.R. gaffes over the last year, it's a step in the right direction, this humilty. This is the LeBron James Reclamation Project now. It started with beating the Celitcs in Miami. It will only truly end with a championship ring.