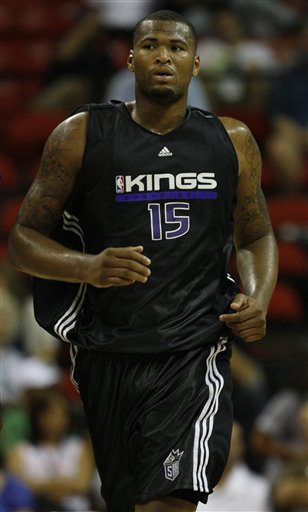 Posted by Royce Young
In a classic "We're a little worried about him mentally so let's surround him with a familiar face" move, the
Kings
have hired
DeMarcus Cousins
'
former high school coach as an assistant
.
Otis Hughley was the head coach at LeFlore High School in Mobile, Ala., where Cousins went before his one and only year at Kentucky. And there, Hughley was obviously able to motivate Cousins and push the right buttons for him to become one of the most highly recruited players in the country. Any time you make an investment like picking a guy fifth, you want him to feel comfortable. So instead of hiring his dad and signing his mom as a third string point guard, the Kings decided to bring in someone familiar and someone that knows how to get through to Cousins.
I always find these type of situations interesting though. The Kings now basically have a personal coach for Cousins. Is Hughley supposed to work with other big men? Will
Jason Thompson
and
Carl Landry
take him seriously? Is it just assumed he's there only for Cousins? This dynamic of a former coach being brought in is always an interesting one.
But Sacramento, it's a smart move. Cousins has a history if bad choices and some have wondered about his desire to play and if he'll be the next
Eddy Curry
(i.e., eat his way out of the league). During summer league in Vegas, Cousins started like a mad man, but cooled off as he lost interest. He went from double-double machine to barking at officials and appeared to have tuned out the coaches. Hughley has been hired to prevent exactly that.
Hughley has previously served as a college assistant at Wright State, Liberty and Southern. He also has coached for the league's NBA China program and worked at Pete Newell's "Big Man Camp."