Miami Heat forward Chris Bosh will be sidelined for an extended period of time with a high ankle sprain. Posted by Ben Golliver.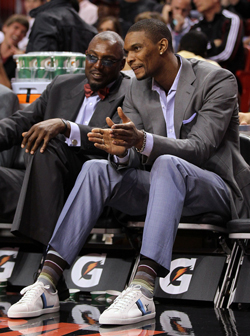 Back on Jan. 15
, Miami Heat forward Chris Bosh got really carried away, upset that Chicago
Bulls
forward
Omer Asik
for falling on him and spraining his ankle. It's been 10 days since the injury already, and Bosh has yet to see the court for Miami. This wasn't totally unexpected, as the Heat have enjoyed a big time lull in their schedule, but Bosh's return doesn't appear imminent either.
The Miami Herald reports
that Bosh "could be sidelined for an extended period of time" and that he has not yet been able to run on a treadmill or participate in practice.
"It's quite boring to be me right now at work," Bosh said. "I'm still just trying to feel it out. It's a different situation. I've never had a high ankle sprain. I don't really know how to gauge anything."
Miami Heat coach Erik Spoelstra even said Bosh suffered "some damage" during his incident with Asik, which doesn't sound like great news.
"It's different than an ankle sprain when you sprain your ankle and land on somebody's foot," Spoelstra said. "He had somebody land on his leg and it twisted it awkwardly, so it's a little bit different than that. Those ankle sprains could take a lot longer, but there was some damage to it."
The paper also noted that Bosh could potentially miss "one or two more weeks."
Miami's upcoming schedule is mixed, but fairly busy. In the next two weeks, Miami faces four playoff teams and three lottery teams. Could be better; could be worse.
On Thursday, they'll kick off a four games in five days stretch with a high-profile match-up against the New York
Knicks
in Madison Square Garden. From there, they'll visit the Detroit
Pistons
on Friday, the Oklahoma City
Thunder
on Sunday and then return home to play the Cleveland
Cavaliers
on Monday to close out January. If Bosh were to miss two full two weeks from today, he would also sit during Miami's visit to the Orlando
Magic
on Feb. 3, the Charlotte
Bobcats
on Feb. 4 and a home date against
Blake Griffin
and the Los Angeles
Clippers
on Feb. 6.
The three games that jump off the page are the Knicks, Magic and Clippers, as Bosh's absence will make it that much more difficult for Miami's thin frontline to defend power post scorers
Amar'e Stoudemire
,
Dwight Howard
and Blake Griffin, respectively.
The Heat are 1-1 so far in Bosh's absence, leaning heavily on
Joel Anthony
in both games. They have also turned to
LeBron James
in the
power forward position
.