The Miami Heat notched their first win of the 2010-2011 NBA season, defeating the 76ers in Philadelphia. Posted by Ben Golliver.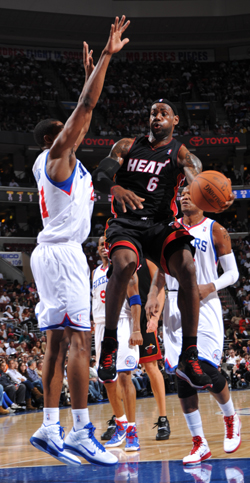 One night after getting taken apart by the Boston
Celtics
, the Miami Heat
restored order on Wednesday
, knocking off the Philadelphia 76ers at the Wells Fargo Center, 97-87. The Sixers mounted a mini-comeback in the game's closing minutes, so the final score was a little deceptive. The Heat led by 26 points at one point, and won with relative ease. Miami came out of the gate a bit out-of-sync offensively, no one more so than
LeBron James
, who finished with nine (!) turnovers. Miami's depth proved to be too much for a young, hard-working Philadelphia team. The Heat bench made a strong offensive push during the second quarter and locked things up by winning the third quarter 31-13, preventing the 76ers from generating many quality looks. Philadelphia 76er rookie
Evan Turner
, the No. 2 overall pick in the 2010 NBA Draft, came off the bench to play 31 minutes, and he acquitted himself nicely in his professional debut. Turner intercepted a James pass in his first game action and went toe-to-toe with the Heat superstars throughout the night, finishing with 16 points, seven rebounds and four assists. Turner's 16 points led all Sixers scorers.
Dwyane Wade
carried most of the offensive load for Miami, with 30 points, and bench shooter
James Jones
chipped in 20 points, including six 3-pointers. Jones's outside shooting was a major catalyst for Miami's run in the second quarter. The statistic of the night goes to Heat forward
Chris Bosh
, who finished +25 on the evening despite doing almost nothing besides kicking out passes from the post. All jokes aside, Bosh finished with 15 points and seven rebounds, but he wasn't a game-changer. James finished with 16 points, six rebounds, seven assists, two steals and a block to go along with the nine turnovers. But a win is a win for these Heat, and the so-called "Big Three" were all smiles during the fourth quarter. Check out the
full CBSSports.com recap
.