Former Miami Heat head coach Stan Van Gundy called speculative comments made by Los Angeles Lakers coach Phil Jackson about Pat Riley and the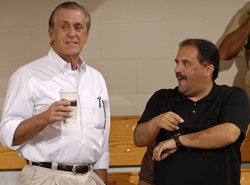 Heat "inappropriate" and "ignorant." Posted by Ben Golliver.
Yesterday, we noted
comments made by Los Angeles Lakers coach Phil Jackson, in which he speculated about the future of Miami Heat head coach Erik Spoelstra and the possibility of Heat president Pat Riley taking over the coaching reigns like he did back in 2006. We wondered at the time how and whether the Heat would respond to the comments, given Jackson's notoriety for getting inside his opponent's heads. Interestingly, the strongest reaction so far has come from Stan Van Gundy, who currently coaches the Orland
Magic
and was the coach of the Heat who was replaced by Riley.
According to Hoopsworld.com
, Van Gundy teed off today, in advance of tonight's game between the Magic and Heat in Orlando.
"To comment on a situation he knew nothing about is inappropriate and it's also ignorant. I don't mean that commenting on Phil's intelligence; he's obviously a very smart guy. I mean that as ignorant because he doesn't know what that situation was and he doesn't know what the situation in Miami is now. I don't think, unless their relationship has changed drastically, that he and Pat talk on a regular basis so I doubt he would have any information whatsoever on what's going on in Miami," Van Gundy said.
Van Gundy went on to claim that he had gotten past his firing, but he sure sounds wound up and touchy about it, letting the media know they have no idea what's
really
going on.
"Look, I've gotten way past what people think," Van Gundy said. There are a lot of people who think they know what was going on and it's a little bit funny. A lot of the people who are sure of what went on don't know Pat at all and they certainly don't know me. I mean, I love all of the media people who 'know what's going on.' I don't think there are any of you here who I confided in at that point or at any point since but somehow you guys know things. I don't know, you're omniscient."
There were some hints at the time of Van Gundy's departure that private family situations played a large role in the decision to leave the bench. That's par for the course in tricky transfers of power, but perhaps there was more truth to that here than in other similar situations. Like Van Gundy says, outsiders are not omniscient. One thing we do know, however, is that Phil Jackson's victim list just added another name: Van Gundy's, as he comes off whiny and petulant as always, his thoughts a dull spork compared to the samurai blade cutting of Jackson's statements yesterday. When will coaches and players learn to completely ignore Jackson's comments? Not today, apparently, so Jackson wins again.