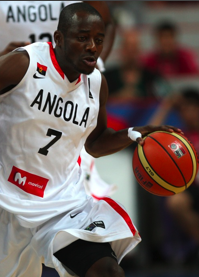 Posted by Royce Young
The trip to the knockout round for Team USA wasn't an especially tough one. Though most agreed Group B might have been the most difficult at the World Championships, the U.S. cruised through with only one close call and an overall winning margin of 24.8 points per game.
But now it's serious. Now, one bad half, one bad quarter, one bad
possession
can be the difference between moving on and flying back across the Atlantic. In the knockout round, it doesn't matter how much better you are than everyone else - you can lose. And you can lose to pretty much anyone. The road to the gold medal isn't a cakewalk and it starts Monday against Angola. So what do we know about the Angolans? Pretty much nothing. So let's all try and learn something here.
How did they get here?
Angola went 2-3 in group play in one of the more difficult sets. Their scoring margin was a negative 12.8 points and their two wins came against Germany and Jordan. Angola defeated Germany by four in overtime and Jordan by 14. A big fourth quarter is what got them by Jordan, and without that win, Angola would be headed home.
Their losses were ugly though. Australia and Argentina both beat Angola by 21 and Serbia walloped them by 50, yes
fifty
, points. And honestly, it could have been 60 very easily. Angola didn't play Argentina all that awful, but the game was really never closer than 10 after the first quarter. But they did outscore the Argentinians 27-19 in a quarter.
Before you go any further, where the heck is Angola?
Angola is an African country located in the south-central region of the country. It's bordered by Nambia on the south, Congo on the north, Zambia on the east and the west coast is on the Atlantic Ocean. Luanda is the capital city. Most people speak Portuguese in Angola.

Do they have a history of ever winning?
In the 2006 World Championships, they went 3-2 in group play losing only to Spain and Germany, and nearly knocked off France in the round of 16. They are historically one of the best African countries in basketball and have competed in the Olympics every year since 1992. Their best ever finish at either the Olympics or Worlds is 10th. Angola has never had a native player play in the NBA.
Who are their best players?
There aren't any NBA players on the roster and honestly, not a ton of great talent either. Olimpio Cipriano is their best player, averaging 14.8 ppg in group play. He dropped 30 against Germany on 11-15 shooting in their big overtime win. Shooting guard Carlos Morais is their best outside shooter, as he hit eight 3s in preliminary play.
On the inside, Angola relies heavily on Joaquim Gomes, a 6'8 center that scores mostly on effort. His best game was against Argentina and Luis Scola, where he put up 16 points and seven rebounds in 25 minutes. He's not overly skilled, but certainly works hard on the glass to make up for his slight stature.
Nobody really sticks out in terms of superior athleticism or skill. A couple players are capable of scoring, but there's not really a go-to guy or someone they can count on to eat up the boards.
What do the matchups look like?
Angola is similar to the U.S. in that there's little size on the roster. There is nobody over 6'8 on the roster. Their lineup is guard heavy and relies almost entirely on hard cuts, penetration to kick out on and knocking down open shots. There's really no post presence and they don't rebound well. They want to attack using the dribble and players like Cipriano rely on getting looks off that penetration.
But by being so undersized, there is just no way for Angola to defend someone like
Kevin Durant
. Cipriano who is 6'4 will likely get the call and that's just an insane mismatch. Their guards a scrappy, but still, matching up with stronger players like
Derrick Rose
,
Russell Westbrook
and
Eric Gordon
will be tough. A guy like
Lamar Odom
could be a nightmare for Angola because Odom has size but on top of that he can score off the dribble and Angola's bigs don't move especially well.


Does Angola have a chance to beat the U.S.?
One thing you can count on: Angola will play very, very hard. This is that country's chance to make a statement so they will absolutely give everything. But it will take a flawless night from Cipriano shooting the ball and Lutonda will have to be terrific running the offense. They will have to control tempo and limit turnovers, two things Team USA thrives at pressing opponents against.
Does Angola have any chance whatsoever? No, none. There's just no way Team USA drops this game. It could be similar to Iran and Tunisia in the sense that the first 15 minutes are ugly because the U.S. and Coach K are feeling the game out, but by the end, the margin will likely be around 30.