Boston Celtics center Shaquille O'Neal is reportedly not expected to play in Game 5 and could be done for the season. Posted by Ben Golliver.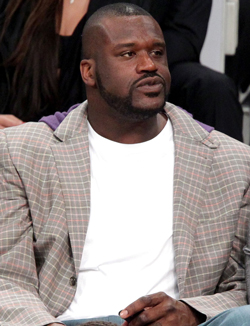 Boston Celtics center Shaquille O'Neal made it back. After months of injuries, he played a total of 12 minutes in Games 3 and 4 of the Eastern Conference semifinals against the Miami
Heat
. In the two games combined, he made one basket, grabbed zero rebounds and committed four fouls. He also looked significantly out of shape.
Those could be the last minutes of O'Neal's, season.
CBSSports.com's Ken Berger reports
that Celtics coach Doc Rivers said on Wednesday morning that "Shaq doubtful for tonight. Calf has gotten worse, not better."
CSNNE.com reported
that O'Neal suffered a "relapse" of his "right Achilles/calf" injury duing Game 4.
WEEI.com reported
: "Shaq is not likely to play tonight. This may have been it for him." The station also reported that Rivers said: "He's done everything you possibly can do to get healthy. It just never healed, and now every time he plays it gets worse."
The Celtics trail the Miami Heat, 3-1, in the series so Wednesday night represents an elimination game. Game 6, if necessary, would be played on Friday night.
O'Neal, 39, averaged 9.2 points, 4.8 rebounds and 1.1 blocks in 20.3 minutes this season.
He has a player option on his contract for next season.
For more on what this setback means for O'Neal's future,
CBSSports.com's Ken Berger has you covered
.