The Los Angeles Lakers can advance to the second round with a Game 6 win over the New Orleans Hornets. Posted by Ben Golliver.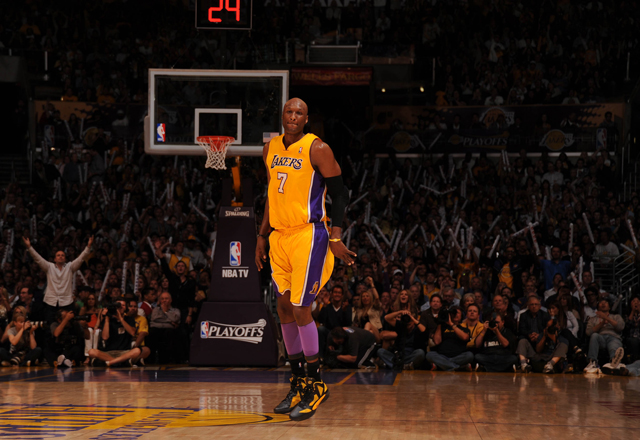 One Big Thing:
After a lackadaisical and lost Game 1 effort that allowed 109 New Orleans points, the Los Angeles Lakers have locked in on defense, holding the Hornets to an average of 85.5 points in Games 2 through 5. Playoff basketball always starts on the defensive end, and the Lakers have proven that in this series, doing their best to win the battle on the glass and contain a plucky, overachieving and fearless Hornets team to take a 3-2 series lead. In Game 5, the Lakers were able to force 19 Hornets turnovers, a number that isn't sustainable for New Orleans if it hopes to stave off elimination at home in Thursday night's Game 6.
The X-Factor:
In a series with such a disparity in talent, length and bulk in the frontcourt, it's been a bit surprising to see how closely tied L.A.'s success has been to
Kobe Bryant
's performance. In Game 5, Bryant changed the complexion of the game with
two monstrous dunks
. His teammates obviously fed off of the spark, playing more loosely and with that Laker swag/confidence that has been absent for much of this series. All five Lakers starters scored in double figures and shot 50% or better, reaching a level of balance that is simply overwhelming for New Orleans, who can match Bryant with Chis Paul but have no answer for the Lakers 2-8. The overlooked aspect of Game 5? Bryant scored just 19 points and played only 29 minutes. He's got plenty left in the tank for Game 6, despite the tweaked ankle.
The Adjustment:
It's been an ongoing process, but the Lakers have begun to lean more heavily on their interior tandem of
Pau Gasol
and
Andrew Bynum
offensively. Their combined point totals in Games 1 through 5: 21, 23, 31, 27, 34. Game 5 was really the model they'll look to reproduce in Game 6, as the 34 combined points came on just 23 attempts and included 12 combined trips to the foul line. Getting to the stripe on the road is generally a difficult proposition, but the Lakers were able to bully their way to 24 free throw attempts in Game 3 and 30 in Game 4. They shot 30 free throws again in Game 5 and will look to continue the parade in Game 6. New Orleans has three possible hopes here: L.A. reverts to ignoring its bigs in the halfcourt offense, Gasol shrinks back to his Invisible Man form from game 1, or Bynum gets in early foul trouble himself.
The Sticking Point:
The Lakers' intensity level has been up and down this series, and they'll be walking into a cauldron in Game 6. Hornets fans, uncertain of their team's future, have been out in full force throughout the series, and Paul has ranged from amazing to spectacular through the first five games. One of the league's great competitors, Paul has
already delivered
the "this is all or nothing" quote in advance of Thursday night's game and has made his appeal to the home fans. The Hornets haven't looked afraid of the defending champions once during this series and Paul and company won't go down without a fight.