The Dallas Mavericks continue to play their game, taking a 3-0 series lead against the Los Angeles Lakers. Posted by Ben Golliver.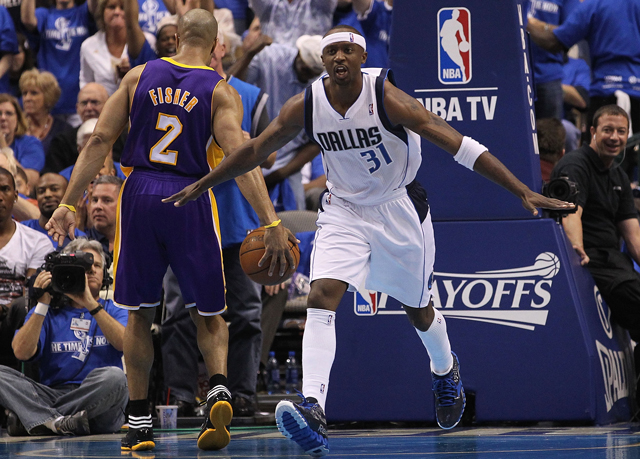 No team in the NBA playoffs is playing better than the Dallas Mavericks right now.
After watching the Mavericks handle the Los Angeles Lakers, 98-92, to take an insurmountable 3-0 lead in the series, there's really no argument.
We talk all the time about teams "imposing their will" or "imposing their style of play". But, usually, that boils down to one of two things. 1) The bigger team pounds the paint against the smaller team. 2) The more athletic team overwhelms the less athletic team. In both cases, the end result jumps out of the boxscore, usually in the form of things like a rebounding advantage or points in the paint for the bigger team, or fast break points or points off turnovers for the more athletic team.
While the Mavericks' dominance of Los Angeles hasn't come from interior bruising or from open court cruising, it's been a sight to behold. Consider this: Los Angeles outscored Dallas 56-20 in the paint and neither team got out to run much, with the two teams combining for just 15 points (Dallas had 11) on the break.
The secrets to Dallas' success read like chapters from an old-school textbook: move the ball, outplay your opponent's bench, and maintain composure in crucial situations. Dallas clicked on all three of those cylinders during Friday night's Game 3, and for the third time in the three games. It has them on the verge of upsetting the heavily favored Lakers. Incredibly, it also has them on the verge of a sweep.
With forward
Ron Artest
sidelined due to a suspension, the Lakers were forced to play a bigger lineup that often featured
Lamar Odom
,
Pau Gasol
and
Andrew Bynum
on the court at the same time. That lineup is a touch slower than L.A.'s usual starting lineup that features Artest, Gasol and Bynum, and quite a bit slower than the Artest-Odom-Gasol trio that the Lakers often turn to late in games. Dallas exploited this fact mercilessly, making the extra pass around the perimeter time and time again. "One of the things [Artest's absence] hurt was our rotations to the three-point line," Lakers coach Phil Jackson admitted after the game. "Covering that. It's a little bit tough for our bigger guys to get to that point."
Lakers guards
Derek Fisher
and
Kobe Bryant
were left to chase the ball as best they could. Odom and Gasol gave good effort closing out to shooters, particularly in the second half, but it simply wasn't enough. The Mavericks --
Jason Kidd
and
Peja Stojakovic
in particular -- didn't shoot the ball all that well early, but the open looks added up. The final perimeter numbers more than made up for L.A.'s dominance inside: 12-29 from three-point land, with the Mavericks outscoring the Lakers from deep, 36-9. The most telling stat: 22 assists on 31 field goals, an extraordinary number.
Stojakovic got things going in the fourth quarter, scoring 11 of his 15 points. More than anyone, his night encapsulated what's made the Mavericks so unstoppable of late. Despite starting 1-5 from three-point land, he continued plugging away, throwing in two daggers late to pull Dallas back into a game that Los Angeles once again thought it had won.
Following Game 2,
we pointed out
just how deadly the Mavericks bench has been, and Stojakovic's heroics expanded on that trend. Dallas' reserves outscored L.A.'s in a 42-15 landslide, with
Jason Terry
leading the way with 23 points. It's worth noting that those numbers are skewed a bit by Artest's absence because Odom scored 18 in a starting role. Still, the Mavericks' depth advantage is clear as day, as is their collective poise. Not only can coach Rick Carlisle go nine deep, he can do so confidently. His reserves are rising to the moment rather than shrinking from it.
That depth advantage played huge down the stretch, where L.A. crumbled for the third time in three games. All five Lakers starters played 35+ minutes and they showed both mental and physical fatigue in the closing minutes. This time, the biggest culprit was Derek Fisher, who committed a huge foul to send Jason Terry to the free throw line (where he made it a two possession game) and then
immediately threw the ball away
on an inbounds pass on the next possession. Fisher wasn't the only scapegoat. Nowitzki was allowed to hit a number of open looks, something that can't happen on a night when he scores 32 points and continues to display MVP form.
The Orange County Register quoted Bryant
: "Dumbest defensive mistakes I've seen us make all year." Those mistakes proved fatal.
On the other end, Kobe Bryant threw a pass off Pau Gasol's back and the Lakers as a whole forgot to pound the ball to Bynum late in the game, despite a monster 21-point and 10-rebound performance from their center. All of that ugliness led Jackson to summarize it simply: "They finished better than we did, and they deserved to win it."
Game 3 was played at a Finals level intensity. Despite L.A.'s mistakes, this wasn't a meltdown akin to Game 1. Instead, this was about the Mavericks methodically playing their own game, possession after possession, missed shot or made, and not giving in to the pressure or L.A.'s increasing desperation.
Put it all together and it's fair to make this bold statement: The Mavericks had the look of a champion on Friday night.