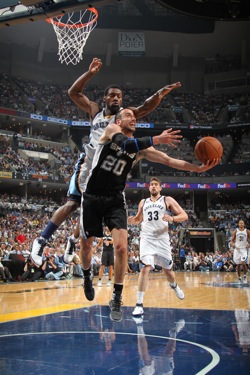 Posted by Royce Young
Tony Allen
may be taking this "Hustle, Grit and Grind" thing a bit too far. He's a tough player and we all know that, but that doesn't mean you question others toughness or even if their injuries are real.
In fact, that's exactly what he did with
Manu Ginobili
's elbow injury.
"It's for the birds," Allen told the
San Antonio Express-News
. "Everybody is banged up. You don't see me running to my PR guy telling him about an injury."
Ginobili of course missed Game 1 entirely because of a sprained elbow and he's worn a clunky brace on it the last two. His production has suffered just a bit, most notably at the free throw line where he's only 19-27. During the regular season Ginobili shot 87 percent from the line.
When asked about Allen's accusation that he was faking it, Ginobili didn't really know how to respond. "That's his opinion," Ginobili told reporters. "I really don't care. I would love to not play with that brace. In previous years, we've had some pretty good runs without an elbow brace."
I don't really know what Allen's motive here is but calling Ginobili an injury faker seems pretty serious. Especially since Ginobili is most definitely not faking an injury. The fact he missed a crucial Game 1 kind of says it all.
In the two games he's played, Ginobili scored 17 and 23 points, but on just 10-25 combined shooting.