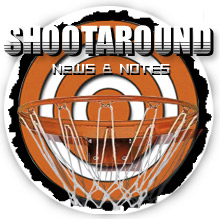 Posted by Royce Young
Carmelo Anthony scored a season-low eight points and was booed by his home fans Sunday. Chris Dempsey of The Denver Post: "Carmelo Anthony strolled into the Pepsi Center about an hour and 15 minutes before the game that could turn out to be his last -- or very close to his last -- in a Nuggets uniform. And there seemed to be a component of 'senioritis' to his game on a snowy Sunday night against New Orleans. On the bench, he was carefree. He bobbed his head to the music over the loudspeakers, and frolicked through a first half that was generally bad for his team. And on the court, the man who makes his living putting up shots and scoring in bunches took just two shots in the first half. The Nuggets lost this game 96-87 in front of 16,283 fans. But more than a game, for the first time it appeared the Nuggets lost the interest of their star as well. And when that became the perception, many in the crowd turned on the player, who they felt was thumbing his nose at them. Anthony was booed loudly in the fourth quarter when he entered the game on a substitution."
Did you know LeBron had a big game last night? Jason Quick of The Oregonian: "Blame it on Nike. Blame it on the Trail Blazers' defense. Or just blame it on greatness. For whatever reason, whenever LeBron James steps into the Rose Garden, he suddenly adds shooting prowess to his already vast array of talents. James, whose status as the world's greatest basketball player is debated perhaps only because of his suspect outside shooting, put on yet another shooting display at the Rose Garden on Sunday, scoring 44 points in leading Miami to a come-from-behind 107-100 overtime victory over the stunned Blazers. It was all part of the Blazers' game plan: Go under screens and prevent James from penetrating, in a sense daring James to shoot. And shoot he did, making 17 of 26, including 3 of 5 from three-point range, one starting the Heat's comeback from a 91-84 deficit with 1:39 left, and the final two in overtime, piercing daggers to a Blazers team that thought it had its ninth consecutive home win wrapped up in regulation."
Paul Coro of The Arizona Republic: "That was the drabbest the Suns' locker room has been after a victory in some time. Appropriately, nobody was giddy about getting the first win of 2011 against Cleveland at home. There was not much of a good feeling about having to scrap to hand the NBA's worst team its 16th consecutive road loss."