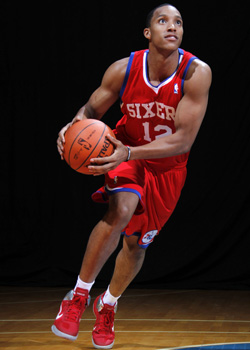 By Matt Moore


Evan Turner
didn't exactly look like the No. 2 overall pick last year for Philadelphia. He wasn't terrible, by any stretch of the imagination. He just didn't seem special, which is your biggest concern with a player like Turner, older than some of the prospects behind him.
Turner showed some progress as the year went on but was then inexplicably benched during the Sixers' late run to ensure the playoffs for
Andres Nocioni
(we're still trying to figure that one out),. He then managed to play fairly impressively against the
Heat
in the Sixers' first-round exit. But it was clear there was room for Turner to improve.
And Turner knows it.
CSNPhilly brings us the report that Turner has been working with "shot doctor" Herb Magee on getting his percentage back to where it was in college. From CSNPhilly:
"He is a good shooter, actually a very good shooter," Magee stressed. "We go 15 feet, we go off the dribble, we go foul line and he is very effective. His problem is when he steps back to three his guide hand is in the way, so we have been working on it from the vantage point of shooting the 15-, 16-footer the same way we shoot the 22.9 shot."

"Everybody had told me what a terrific fellow he was," Magee said. "He may be an even better guy than people told me. This does not work unless he is into it and if he wasn't into it we wouldn't have made it past the first day, but he is into it. He's a smart guy, he asks good questions and he wants to get better. It is going to be successful."
via
'Shot Doctor' Magee working with Sixers' Turner
.
The Sixers need Turner to produce offensively to justify finally moving
Andre Iguodala
, a good offensive weapon. But since Turner is unlikely to wind up as the all-around producer Iguodala is, he'll need to compensate with pure offense. And that means knocking down j's since he doesn't have the body or experience to produce in other ways yet. It's good to see Turner focusing on this part of his game during the lockout, as he needs such a big jump.
The post also says Turner is pursuing his degree from Ohio State, just as many NBA players are working on their degrees with all this free time on their hands. Idle hands, and what not. Turner is working to set himself up well in the league for years to come, in ways both on and off the court.
For a young player suddenly without a team, trying to find his NBA identity, that's the best angle he can have. Positive signs all for Sixers fans.