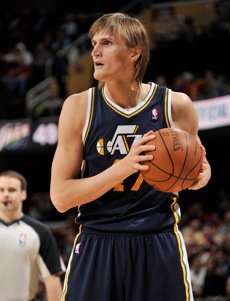 Posted by Royce Young
Andrei Kirilenko
, and his hair, will be a free agent this summer.
He's made mention of maybe going to Russia
depending on what happens with the NBA labor situation, but he's likely looking for one last good contract.
Kirilenko is just 30 and when healthy, is a productive swingman and class defender. If
Travis Outlaw
can get $30 million, Kirilenko will land a deal from someone. (How about those
Nets
? Not only are they willing to overpay, which is something Kirilenko would like, there's that Russian connection with Mikhail Prohkorov.)
Question is, will it be with the
Jazz
, or are they moving on? Utah general manager Kevin O'Connor kind of hinted at his intentions in
an interview with the Salt Lake Tribune.
"He's got an opportunity to test the free agent market, and there's nothing we can do about it," O'Connor said. "He's filled his contract. We've fulfilled our side of it. We would like him back, sure, absolutely; that's a conversation we'll have. He'll look at it. Because he's got other options, because he's a foreign player. ... He likes it here. That's what he's told us."
I don't know about you, but that sounds to me like a GM that doesn't see Kirilenko in his team's future unless Kirilenko is willing to take a major salary slash just to stay. "We would like him back, sure." Yeah unless Kirilenko is willing to give Utah a coupon for missing a big number of games the past two seasons because of injury, I don't see him back in Salt Lake.
Kirilenko was rumored to be a big trade piece at the deadline and was reportedly part of the original four-team deal that would sending
Carmelo Anthony
to New Jersey.
The Jazz are looking to rebuild behind a younger core and though Kirilenko is a nice player and by no means old, he really doesn't fit. Between
Gordon Hayward
,
Devin Harris
,
Derrick Favors
,
Al Jefferson
and
Paul Millsap
, the Jazz have some nice pieces. They've got draft picks to use and with a player like Kirilenko coming off the books (owed almost $18 million this season), some cap space to play with.