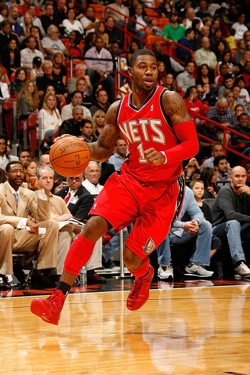 Posted by Royce Young
UPDATE: Williams has been recalled by the Nets.
Mostly, when a young player is sent to the D-League, it's about what the "D" stands for - development. But that wasn't the case for Nets guard
Terrence Williams
.
Because of issues with being late, Williams was sent to the D-League.
Coach Avery Johnson says it was about giving him the opportunity to play, but most agreed it was a punishment of sorts aimed to give Williams a wake-up call.
But in his time in the D-League, Williams has absolutely torn up the world in the three games he's played with the Springfield Armor. He notched triple-doubles in his first two outings and in his most recent game Sunday against the Maine Red Claws, he scored 36 points, pulled in nine boards and handed out seven assists.
In the three games, Williams is averaging 28.0 points, 11.3 rebounds, 10.7 assists and 1.3 steals a game. I guess sometimes it's not hard to tell when one is not like the other. Williams is clearly an NBA-level talent. But it's his head that's keeping him out of it.
With the Nets, Williams has been squeezed. He hasn't played much this season averaging just 19.9 minutes a game in eight appearances. He was drafted 11th overall out of Louisville in 2009 and seen as a player capable of exactly what he's doing in the D-League. But because of this recent issue, plus some odd exchanges he's had on Twitter, it's been easy to wonder where Williams' head is at.
Clearly his basketball ability isn't in question. He's one of the most athletic shooting guards in the league, had mid-range touch, great vision and the ability to be an above-average defender. Put all of that together and it's easy to scratch your head wondering why he's not playing in front of
Anthony Morrow
or even
Travis Outlaw
at small forward.
The Nets are in desperate need of playmakers and Williams can be exactly that for them. Maybe his stint in the D-League will show him what a player he can be and maybe get his head straightened a bit. Because he has the ability for sure. But it's a matter of if he has the head.