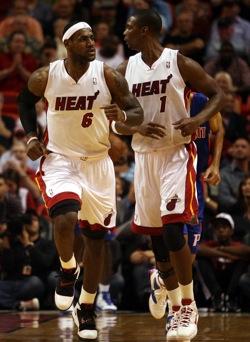 Heat win hugely important game that does not count in standings against mediocre squad. LeBron James is good at basketball.
Posted by Matt Moore and Royce Young
Some thoughts from your F&R staff after the Heat's 105-89 win over the
Pistons
to open the Miami Triad era.
Dwyane Wade
left the game in the first quarter
with a strained hamstring
and did not return.
Royce Young:
One thing mildly interesting: With
Carlos Arroyo
on the court, he typically ran the offense but when
Mario Chalmers
was in the game, LeBron seemed to control things a bit more. I don't know if this was by design or coincidental, but it seems the Heat are set on letting LeBron operate much in the same way he did in Cleveland. Now this (preseason) game isn't the best indicator because Dwyane Wade only played a few minutes and really all it turned into was the
Cavaliers
with
Chris Bosh
, but still, the usage of the point guard was minimal.
Matt Moore:
Interesting that you mention that, because I thought the offense flowed a lot better with Chalmers in the game. He wasn't dictating the ball by bringing it to the timeline or setting things on the perimeter as much, but Chalmers was a through-point for the offense, and his shot looked much cleaner than Arroyo's. It's not just that this team
can
operate with James or Wade at point, but they may actually need to.
RY:
Chalmers handled his duties pretty well though. Ten points, seven assists and just one turnover in 19 minutes. And he's coming back off a light ankle sprain. He'll be seeing more like 25-30 minutes this season but if that type of box score becomes semi-consistent, this team will be pretty awesome.
MM:
Much better than I was expecting. Arroyo on the other hand was dreadful, even with a better line (4 of 6) than Chalmers. He just seemed like such an athletic downgrade from Chalmers. Then again, it's preseason, which is what I like to call "Marioworld."
RY:
If you're even a casual fan of the NBA, it was hard not to be a little star-struck watching Wade, LeBron and Bosh all on the court at the same time. It was kind of surreal. Everyone has their feelings about this Miami team but even if you're on the side that absolutely despises it with every fiber of your being, watching Dwyane Wade try and follow a missed LeBron layup was something else. I wonder how long it's going to take for this newness to wear off and we can all start watching them just as a basketball team. I kind of think it might not really happen this season.
MM:
It definitely had that All-Star feel to it. I kept waiting for Usher to break out at halftime. Bosh I thought was the weirdest part. He's doing what Chris Webber called "the dirty work" by cleaning up misses (and man is he going to get a ton of points that way this season). This is a premier offensive player in the league, and he's essentially playing the
Anderson Varejao
role. Of course, Bosh's line was great (20 points, 6 boards), but he had significant trouble with both the double-team and setting up in the block. He looked much more comfortable face-up on the wing, which isn't surprising if you've done your homework, but betrays what he's supposed to be for the Heat, which is the man down low. I would have liked to see more pick and roll with LeBron from them tonight, as well as more high-post work from Bosh.
RY:
The DNP's for the Heat:
Eddie House
,
Kenny Hasbrouck
,
Juwan Howard
,
Jamaal Magloire
,
Zydrunas Ilgauskas
,
Mickell Gladness
and
Da'Sean Butler
. Probably not too much to read into there because the notable ones (House, Howard, Magloire and Ilgauskas) are old veterans and are probably being limited in preseason.
MM:
I thought more interesting was that Patrick Beverly got as much time as he did (a good nine minutes) as well as
Dexter Pittman
. The Heat are obviously still giving the youngsters a look in preseason.
RY:
For a player like
Udonis Haslem
who is near automatic on an open 12-foot baseline jumper, LeBron is going to be incredible for him. Haslem was very good finishing with 14-13 and hit 6-9 from the field. More than likely, Haslem will become the rock on the Miami bench and in some games may prove to be that difference maker on the second unit instead of
Mike Miller
or Eddie House, who most think needs to step up.
MM:
Z lived off of drive and kicks from LeBron for years, but Haslem is more athletic and has a closer range (Z has to have space to allow time to set up his shot at his age). I think Haslem's got a ton of potential to be the difference maker for this team on both sides of the ball. The best thing about him is he's reliable. Well, except for last year against the
Celtics
. That'll be a storyline down the road.
RY:
Joel Anthony
is set as the Heat's starting 5 right now and here was his line: 20 minutes, zero points, one rebound, two blocks, 0-0 from the field and four fouls. When you're Joel Anthony on the roster built like this, you better get used to lines like that.
MM:
I almost feel like Dexter Pittman's 8 points, 4 fouls, 2 rebound performance was better. The effort was there from Pittman which is what the team needs. Anthony's not going to fill up the point totals, but he better get to rebounding and fast. This team absolutely
must
dominate the glass if they want to get where they're going, because they're not flush with elite size.
RY:
Granted, just one preseason game so it's way too early to start crowning this team, but that didn't stop me from thinking about 25 times, "Dang, this team is good." Wade only played three minutes so that's not a big taste of what it will be like, but with LeBron cooking there's just no stopping them. I think while we all questioned how Wade and LeBron would co-exist this summer we kind of forgot what an unselfish and great passer LeBron is. Yes, LeBron needs the ball in his hands just like Wade, but at the same time, LeBron is such a creator that you can picture them working fabulously together.
MM:
How about that jab-step dribble and jump-whip pass to Bosh for the dunk in the first quarter? That's the kind of stuff you're going to see a lot. I think a lot of people put too much emphasis on one game of LeBron's career (Game 5) and forgot that this really is the best player in the NBA. He's still able to get to the rim whenever he wants. Having Bosh is good for him because he can finally trust the guy to get it done. The Wade-James experiment is still in testing phase with Wade's injury, but it's a matter of how it will work, not if. This is a preseason game, so there's going to be heavy limitations from what we can take away from it. But if you're a hoophead, you watched this team and it struck you. We have a new powerhouse in the NBA and teams better get ready to contend with them.
I will say this in closing. The chemistry on court seemed good, but there was a concern. Bosh seemed a bit awkward and out of place early on when he wasn't just given the ball in ISO to work. That's going to come in time, but right now, it's something they need to work on. And if you noticed, James took a hard hit on his right elbow in the first, grimaced, cursed, then missed two free throws (finished 0-3 from the line). I'm not convinced the elbow is better. I am convinced the Heat are going to be not only good, but interesting to watch develop this year. As overhyped as they may be.