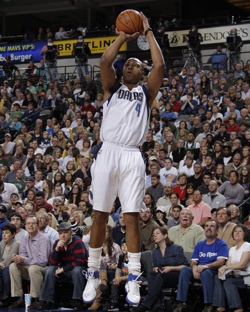 Posted by Royce Young
Take away a major knee injury and
Caron Butler
might be one of the prizes of this free agent class. Not to say he's not something contending teams are after though. He's still a very enticing piece to someone's puzzle.
Question is, who is that someone? Because there are a lot of them.
After reports
of legit interest in the
Bulls
, Butler is said to be meeting with the Bulls and
Clippers
on Monday, the
Spurs
on Tuesday and the
Nets
on Wednesday and Thursday he could talk with the
Pistons
,
according to ESPN Dallas
.
Of note: The Dallas
Mavericks
aren't among the teams with interest in Butler right now. Not all that surprising given the Mavs roster and financial situation, but there was a thought that Dallas would try and keep him. The Mavs have said they'd like to keep Butler, but as of now, there's no reported meeting.
Problem for the Mavs is, they're already worrying about
Tyson Chandler
and J.J. Barea, plus the new luxury tax rules that could change how they spend.
The Clippers will meet with Butler face-to-face at heir practice facility Monday.
You can be sure the Bulls will sign a wing in the next few weeks whether it's Butler,
Arron Afflalo
or someone else. The Clippers want more scoring to go with
Blake Griffin
and
Eric Gordon
. The Spurs are always in the market for cheap veteran talent and with
Richard Jefferson
being iffy, Butler could be a nice replacement. The Nets want anything.
If I were handicapping this, I'd say the Bulls are the top option for Butler, but it's just whether or not the interest is mutual. It probably will depend on if the Bulls think they can get Afflalo. If not, the Clippers really do seem like a fit. They need a small forward badly and have the money to pay Butler.
And unfortunately for Mavs fans, I might put Dallas last in that list. Just doesn't seem like Butler will be back there.