5 Things to Watch in Celtics-Heat. Posted by Matt Moore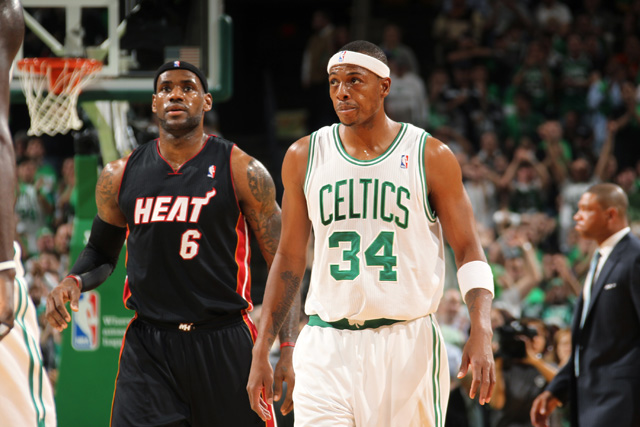 With Boston visiting South Beach to meet the suddenly-reeling Miami
Heat
, it's time to look at this game and it's importance. The opening night game? Sure, you're new to one another. These things happen. Boston had a bloodthirsty home crowd, the Celtics like to set examples, and you
still
almost pulled it out. The
Hornets
loss? Hey, when you're hot, you're hot, and the Hornets are jalepeno right now. But the loss to the
Jazz
? After being up 20? That's a bad sign. Three losses in less than three weeks of the season and you're looking at a Heat team that looks nothing like the juggernaut it was supposed to be. And now? The Celtics come calling again. Not even the friendly confines of South Beach look so comfy after the Jazz stole one earlier this week.
So what's the story with this game? Here are five things to keep an eye on as the Heat face the Celtics for the second time this season.
1. Weapons Point Blank:
Rajon Rondo
.
Chris Paul
.
Deron Williams
. 38 points.
50
assists. Three wins. In the three losses the Heta have suffered, point guards have absolutely detonated them and them kicked dirt on the debris. And one of the arsonists is back in the house this eveining. Say that they're great players. They are. Say they made plays. They did. But if the Heat are going to have any shot against a Boston club that likely wants to put the foot down on the throat again, they're going to have to at least
distract
Rondo long enough so that he doesn't single-handedly rip them apart with his bare, headband-less head and hands. Which means that finally, maybe, it might be time for Erik Spoelstra to give
Mario Chalmers
some burn. Why? Because he can't do worse than
Carlos Arroyo
and some combination of LeBron and Wade have. Chalmers is young, hungry, and after being buried on the bench? Very angry.
Sick 'em, kiddo.
Even if Chalmers gets torched, at least you'll have your guys defending the other options on the C's while trying to make Rondo a scorer, which is in his repertoire and yet not his specialty. It's time to attempt desperate matters. And Mario Chalmers? That's pretty desperate.
2. Let The Big Dog Eat:
This is going to sound nuts. But the Celtics need to allow, nay, encourage
LeBron James
to play point guard. Last time out, he wound up with 8 turnovers. And watching the other Heat games, instead of becoming the ultimate facililtator, against good defense, James is forced into bull-in-china-shop mode. And against the Celtics, that's preferable because they can close at the rim. Otherwise you're forcing
Paul Pierce
,
Marquis Daniels
and/or Rondo to chase James off screens and deter a monster in motion. Similarly Wade at point requires more pure speed and that's dangerous in and of itself. Pressuring James off-ball to get him on and then backing in will probably help the Celtics out. Just like it did last time.
3. No Cute Puns, Just Keep The Ball Out Of The Role Players' Hands In Crunch Time:
"James Jones, for the tie!" CLANG. "Eddie House, for the win!" CLANG. Over and over, the Heat have provided what I can only describe as a disgusting number of opportunities to
Eddie House
and
James Jones
to step up and deliver and in the biggest games? They've whiffed. Well, okay, not whiffed. They got a whole lot of rim. If this one goes down to crunch time, the Heat need to let the guys they pay the big
Bucks
to earn them. No more role players. Let the stars shine. They're great players. Let them be great and quit telling them to jump pass to guys who haven't shown their ready right now, despite their history in the clutch.
4. Big Baby Gotta Eat:
Glen Davis
has been the most important bench player, arguably in the NBA not just the Celtics. He tore up the Heat in Round 1 with 13 points on 6 of 7 shooting. In doing so, he hammered them while also drawing charges on LeBron James and
Dwyane Wade
. The Celtics need that from Davis. The works: the mid-range jumper, the inside reverse that looks like a drunken seal trying to toss a ball over his head, the offensive tip-in, all of it. He can be the difference in this game, because so far,
Udonis Haslem
has been unable to be what he needs to be for Miami. Big night for the Big Baby.
5. Keep Up The Pressure, Stay In The Game:
Both teams have surrendered big leads. Both teams have come back from behind. Whichever team establishes itself early has to stay in constant focus to be able to convert a lead into a win. Let up, start letting go, and the game will get tight again. The Heat have been bad in the clutch. But they also have a tremendous roster of guys that can deliver (if they don't jump-pass, see No.3). Focus and consistency will be the answer for whoever comes out with the win.