Posted by Royce Young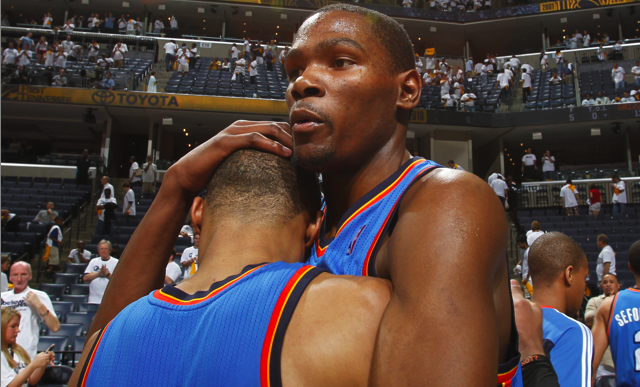 Kevin Durant
and
Russell Westbrook
went from a superduo to a chemistry question mark this postseason. The transition was amazing. Because of a couple questionable shots from Westbrook while Durant didn't get the ball in key stretches, there was speculation on whether the two could could co-exist. People wondered if they were fighting in the locker room, or if there was an alpha dog battle taking place.
Some have nicknamed Westbrook's erratic, seemingly selfish play "hero mode" in Oklahoma City, and that's kind of what it is. He tries to take over and ignores the other four guys on his team. That's fine sometimes when Kobe, Wade or LeBron does it. But since Westbrook has the two words "point guard" attached to his name, and Durant on his wing, he gets punished for it. Sometimes rightfully so, sometimes unfairly.
But in this game where the
Thunder
outlasted the
Grizzlies
133-123 in a triple-overtime classic, it took Durant and Westbrook co-existing near perfectly for the Thunder to pull themselves out of an 18-point hole and even the series at 2-2.
Westbrook finished with 40 on 15-33 shooting and Durant checked in with 35 on 9-20. Westbrook was 10-11 from the line and Durant 16-18.
Some might look at those attempts from Westbrook and assume it was more of the same from him. They might assume he hogged the ball and froze Durant out. He sort of did, but he
had
to in this game. The Grizzlies weren't going to let Durant beat them. Memphis was putting it all on the already heavy-weighted shoulders of Westbrook, and daring him to answer.
The Thunder just looked
awful
the first 16 minutes. It was like the last 20 minutes of Game 3 somehow were transplanted into Game 4. The offense was pathetic, the defense was meh, and the team just wasn't doing anything right. The Thunder turned it over seven times in the first quarter, shot 6-16 and then started the second quarter 0-7. It was looking like a disaster was brewing for the Thunder and that this series was inching closer to a conclusion.
As I watched it, I could only think one thing: OKC needs Russell Westbrook to go hero here. For all the criticism he's endured, for all the discussion he's generated and for all the negative stuff that's been said about him, the Thunder desperately needed Westbrook to bail them out. It started when Daequan Cook hit two big 3s — which seem meaningless now, but at the time were HUGE — and then Westbrook started attacking. And attacking. And attacking. He scored nine points the last five minutes of the second and the Thunder got the message. They fell in step behind Westbrook and finally woke up.
That's the thing: The Thunder has to have that Westbrook. He's crucial. The challenge for him is realizing when and where to turn it on and off. Tonight, he turned it on just in time. Without that second quarter spark, we're not all staying up until who knows when watching the craziest playoff game this year.
Now, some of the negative side to the argument started creeping back in late in the fourth when Westbrook took a questionable long jumper, turned it over and then was blocked by Marc Gasol with a few seconds left. Durant took only one shot the entire fourth, but it seemed excusable to a degree because Westbrook was coming up big. Like I said, though, finding that "off" switch was tough for him because he had carried the Thunder to that point, and to hand it off was difficult.
Same story in the overtimes. Westbrook was the offensive focus for the Thunder and Durant played second banana. I'd have to re-watch but on first look, it just seemed like the Grizzlies intended to take away Durant and force Westbrook's hand. If Westbrook wasn't up to the challenge, OKC loses this game in the first OT. But he stepped up and didn't settle for bad shots. He attacked and, in some cases, created. He did almost everything right and the result was a major Thunder win.
The Grizzlies know how to play Durant. Again, they want it to be on Westbrook. But you can only hold a player of Durant's caliber down so long. Eventually he's going to shake loose. And he did, scoring six straight points to ice Memphis in the third overtime.
OKC has to have Durant and Westbrook working together, feeding off each other. Durant is a pretty remarkable star in that he's fine slinking back while Westbrook takes over. He may not love it on the inside, but nothing on his exterior says he has a problem with it. The Thunder's tandem came up big for them in Game 4. They had to. They learned a little from Game 3's transgressions and did a bit better. Or, at least, just enough.