Posted by Royce Young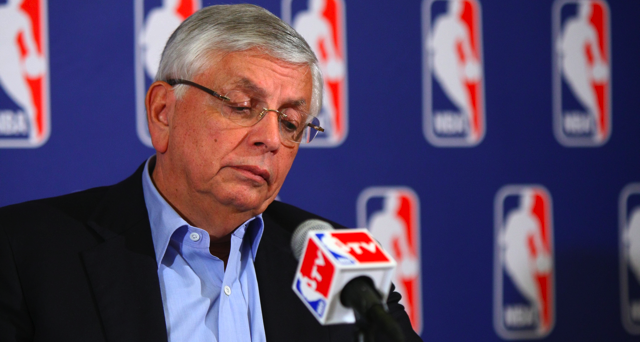 The two sides are very far apart.
That's the phrase you've heard already about the labor negotiations, and the phrase you're going to keep hearing until this lockout thing is resolved.
In labor negotiations like this, there's a give and take. One side lays out some numbers and facts, and the other comes back with how those numbers and facts were massaged. Latest example: David Stern and Adam Silver said today in a post-lockout presser that the players submitted a new proposal that actually had the players' average annual salary rising to $7 million per year in six years.
Obviously, Stern and Silver found that ridiculous. Also finding that ridiculous, but in another way, union counsel Jeffrey Kessler.
Via SI.com:
Jeffrey Kessler, the union's lead outside counsel, rejected that $7 million figure and said the union never proposed a specific average salary number. Kessler told SI.com that the union simply tweaked its existing proposal in which the players would be guaranteed some percentage of the league's total revenue — presumably between 50 percent and the current 57 percent. The league arrived at the $7 million figure by calculating how much players would get if that proposed percentage were applied to a growing revenue pie, Kessler said.

"The NBA is projecting massive revenue growth," Kessler said. "If you give the players any percentage of revenue, no matter what it is, if the league's revenue grows massively, salaries will go up. Their statement about the average salary going up to $7 million must mean they think the NBA is going to be phenomenally successful, which we applaud."
And that, right there, is exactly why the NBA is locking out the players at midnight. The NBA is foreseeing crazy huge money over the next 10 years and naturally, the main, highest paid employees of the league want a piece of that. The players are willing to concede some of it -- reports have the Basketball Related Income down from 57 percent to the players to 54 -- but aren't willing to watch owners skate away with big profits and miss out on a piece of the pie.
Look at it this way: For every dollar the league makes, the players currently get 57 cents of it. And even if they're willing to take that down to 54 percent, but not down into the 40-cent range which is what the owners are looking for. That's a pretty huge divide. Stern, Silver and the owners see it as a reasonable price to pay to get the league on a path towards profitability. The players see it as far too large of a concession.
As Kessler says, the way the two sides are viewing this BRI is almost entirely opposite. So when people say there's a "gap," a "gulf" or "miles" separating the sides, you can kind of see why.