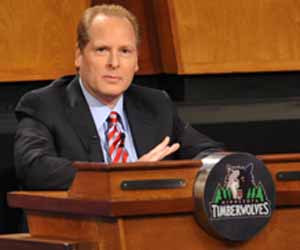 By Matt Moore
When Rick Adelman started to be considered a serious candidate for the
Timberwolves
job, everyone had the same thought. "How did Kahn pull
that
off?" For years, David Kahn has seemingly been running a sinking ship. It started immediately. He made a brilliant trade with the Timberwolves before the 2009 to acquire back to back top-five picks. Then he spent them on two point guards (and later brought in more in free agency). He brought in Kurt Rambis as his head coach, despite Rambis not having the requisite success as a head coach to warrant the position, and despite Rambis running the triangle, which essentially neutralizes the point guard position. Kahn gave
Darko Milicic
a long-term deal, and reportedly sought to bury
Kevin Love
. In short, his tenure has not been the kind of thing that a prospective head coach, the best on the market, would look at and say "Wow, that's a guy I want to work for." So
how is it he was announced
as the new Timberwolves head coach Tuesday? Well, according to Yahoo Sports, it wasn't Kahn that brought in Rick Adelman. Not one bit.
Once Kurt Rambis was fired, Kahn reached out, and Adelman resisted. Ultimately, Kahn needed Minnesota owner Glen Taylor to get involved in the recruitment of Adelman, because the GM had no chance with him.

Five months ago, Adelman never would've imagined he'd coach the Timberwolves. He was 65 years old, wanted a contender, and the Wolves are a long, long way away. Well, $5 million a season can change a man's mind. It's no crime, but understand: The money mattered here. Probably mattered the most. Yes, Adelman wanted to coach Kevin Love, but he had no intention of doing it on a discount. In the end, money overrode everything – including the presence of Kahn.

"Rick would never agree to anything with Kahn," one league official connected to Adelman said Monday. "This had to be [a deal] with Taylor. …Rick has talked many times of his dislike for Kahn."
via
Love and money lure Adelman to Minny - NBA - Yahoo! Sports
.
Basically, the Wolves had to overspend to get Adelman in order to compensate for Adelman having to work with their GM. If so many of the decisions weren't based around Taylor's thinking, you'd start to feel bad for the guy. Taylor, more than any other owner, is in need of the so-called "idiot-proof" CBA revisions to prevent the ability of bad decisions to impact profit. That said, landing Adelman is a huge one, and Yahoo predicts he'll wind up taking over Kahn's turf.
And that's a huge element in all this. While it may make for an uncomfortable and unstable situation, if Adelman were to take over the reins, it could save the Timberwolves. They've managed to collect enough talent (nearly by accident - Love was never valued by the franchise decision-makers until he became an All-Star last season, it took them two years to get Rubio, and
Derrick Williams
fell in their lap and they still tried to trade the pick all the way until the last minute) to have a core that's worth building around. Having someone who knows what to do with it could be huge. Adelman had his problems in Houston, sure. But his biggest was injuries, which he couldn't prevent. Watching the power play in Minnesota will be something important early and often.
Until such a move is made, expect both sides to heavily refute this kind of report, as they put out strong statements denying this kind of dynamic. Sure, it makes sense, given Adelman's reticence and the eventual meeting with Taylor, but they'll say it's just a distorted view of the facts. Rule No.1 in these kinds of situations is to put up a strong united front.
Just ask Kurt Rambis.