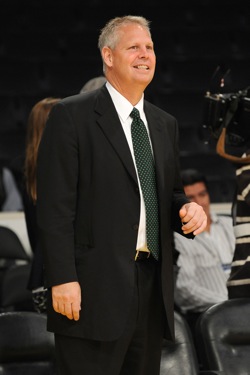 Posted by Royce Young
Less than 24 hours removed from a disappointing Game 5 and series loss to the
Heat
, the
Celtics
are in a mode of reflection. And potentially in a mode of transition.
Doc Rivers has indicated
he wants to return next year
but with the team aging and the roster a bit in question, some are curious as to where the Celtics are headed from here. The man at the front of that ship is general manager Danny Ainge who
spoke to WEEI in an interview Thursday.
He had a lot to say, most of it pretty intriguing.
On maybe changing the starting lineup:
"Maybe there's a change of roles. Maybe Paul [Pierce] comes off the bench, cuts down on his minutes. Maybe we find a way to get Jeff [Green] more minutes. His role will expand if he's back here next year. There's no question about that ... "
"It wouldn't totally shock me if there's a change in the starting lineup, but that's just way too tough to tell."
That's right, Ainge said the idea of bringing
Paul Pierce
off the bench is on the table. The indication there with Green is that maybe he becomes the starter. Of course that means Green returns to the team next season, which is in question as he's a restricted free agent this summer.
On that Ainge said the team would put up Green's qualifying offer, but the market will ultimately determine if the Celtics bring back Green.
On the possibility of trading one of the Big Three:
"I would have to look into that if a good trade came about." Ainge has said that before, reportedly flirting with trading
Ray Allen
a year ago. He wasn't afraid to pull the trigger on dealing
Kendrick Perkins
and Ainge is always looking long-term. He knows the window is starting to close on the Celtics and that Allen, Pierce and
Kevin Garnett
won't be there forever.
On the possibility of trading Rondo:
"Probably not. I can't ever say never, but that's not our plan right now, probably not." By the sounds of it, Ainge is committed to building around Rondo for the future. Maybe a Rondo,
Jeff Green
core? Who knows.
Ainge's biggest regret of the season:
Surprisingly, it's not the Perkins trade that was so widely criticized. Instead, it was letting a player walk in free agency.
"I would have fought harder to bring
Tony Allen
back," Ainge said. "We tried to sign Tony, we tried to come within our rules of staying in our two-year program. I think that Tony would have helped us.
"We offered Tony a two-year deal out of the gate, but then when Memphis showed him some love and he started thinking about the idea of more playing time ... Then, he wanted a change of scenery."
Ainge was also asked about Rivers' future with the organization and Ainge said he thinks Rivers would like a "Jerry Sloan type coach" meaning he stayed with one organization for a long time. That seems to contrast most of what we've all heard with Rivers, but with him saying "I'm a Celtic" last night after the game, it seems like he doesn't see himself patrolling another bench for a while.
This Celtics season is going to be one that's talked about for a long time. The big blockbuster trade at the deadline that tested the team's chemistry and togetherness. The injuries to key players. The battle against age and an upcoming supertrio. Most want to put a bow on the Celtics as we know them and while it sounds like Ainge is ready and willing to move parts, I'd think this core has at least one more run left in them.