The Boston Celtics swept the New York Knicks in their first round NBA playoff series, sending New York into the summer with a host of questions. Posted by Ben Golliver.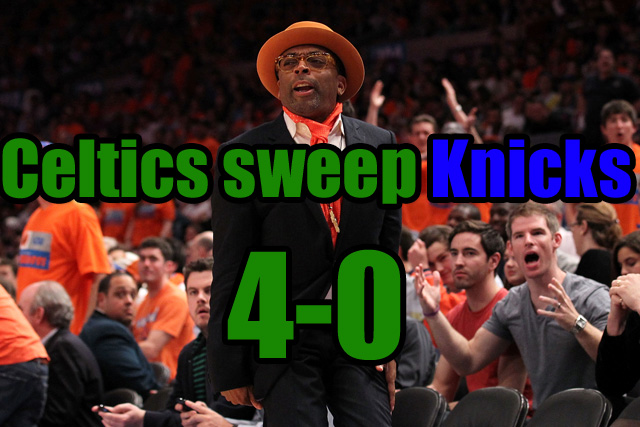 The Boston Celtics sent the New York Knicks into the summer with a 101-89 victory in Game 4, sweeping the first round playoff series in relatively easy fashion. The series victory comes as no surprise, although New York's inability to pull out at least one win is a bit eye-opening. When your starting point guard goes down in Game 1 and your franchise player is dealing with back pain through Games 3 and 4, though, the sweep isn't crippling. That isn't rationalizing. That's reality.
The Knicks exited Madison Square Garden to cheers, and with their heads up. They chose to focus on the positive: the team made the playoffs for the first time since 2003-2004, and they're poised for countless return trips with
Amar'e Stoudemire
and
Carmelo Anthony
locked into long-term deals. Things could be a lot worse for the Knicks. Hell, things have been a lot worse for the Knicks.
But that doesn't make this a worry-free summer. Not by a longshot. Despite the level of certainty that comes with having two franchise players on the same roster, there are plenty of unanswered questions looming.
Teams like the Celtics spend the summer dealing with questions like "Who should be our backcourt energy guy off the bench?" The
Lakers
ask themselves questions like: "Which veteran forward has the proven ability to dish out flagrant fouls and annoy people?" Those are the types of questions that contenders ask themselves as they prune their bonsai tree.
The Knicks have planted their playoffs seed, but that's about it. New York's questions, really, are huge. Starting with: "Who is going to be our GM next season?" Continuing with: "Is Mike D'Antoni the right coach for this job?" Those lead neatly into questions about the roster. "Are we totally sure that we want to pay
Chauncey Billups
$14 million next season after he broke down in the first game of the playoffs?" And, perhaps the most pressing of all: "We still don't have a center, do we?"
Even with all of those questions hanging unanswered, Anthony struck an optimistic tone
with the New York Times
following Game 4. ""Some happy times is ahead of us," he said. And he's correct. The Knicks are on the rise, their salary ledger is in fairly tidy shape and the Celtics are another year older while the Orlando
Magic
appear to be imploding. There's nothing stopping New York from being an elite team in the mid-term future. We could easily be looking at an Eastern Conference that is dominated by the Chicago
Bulls
, the Miami
Heat
and the Knicks over the next five years. This summer, however, will be crucial to making that a reality.
Aside from Stoudemire and Anthony, New York's cupboard is pretty bare.
Landry Fields
is a nice piece,
Ronny Turiaf
is a rotation guy and
Toney Douglas
is worth keeping around. That's five players. New York will need to add another 3-5 quality pieces if they're serious about contending.
New York's dream of chasing an elite center like
Dwight Howard
, or even an above-average big man like
Marc Gasol
, are unlikely to come to fruition. Without trade assets or the ability to outbid for a free agent, that top-level talent is likely to pass them by. The good news: there's room to compromise. The Knicks really only need half of a center: a defense and rebounding specialist to make Stoudemire's life a bit easier. Throw that player in with Turiaf and the frontcourt rotation is essentially set.
The tougher question is what to do with Billups. He's certainly not worth the $14.2 million he's on the books for next season, but the size of his partial guarantee ($3.7 million) makes that a tough bullet to bite. There has been some discussion about an extension for Billups that could alleviate some of next year's cap hit but he hardly seems like the player you want to commit to long-term if you're New York, given the age of your stars and the nature of his game. Committing to Billups is far more likely to be a salary cap anchor rather than roster stabilizer. Paying him his $14.2 million and then attempting to shop him in advance of next year's deadline might be the best solution. He's capable, if not spectacular, and his expiring contract would be one of the few available trade chips in New York's war chest.
But nothing gets done roster-wise until the Knicks make a decision on Donnie Walsh. The saga surrounding his future has been one of the most puzzling in the league. Retaining Walsh is a no-brainer, assuming he's interested. But if he isn't brought back -- either because owner James Dolan decides to go another direction or because age caught up with him -- it's imperative that the Knicks find a like-minded executive to carry out his franchise construction plan. Given the gigantic dollars already committed to Anthony and Stoudemire, an executive wielding a scalpel is far preferable to one toting a chainsaw.
As for D'Antoni, the trip to the playoffs should ensure his future for another season. He displayed progress and injuries and talent disparity are the causes of this sweep, not his decisions. He's well-regarded and solid enough, despite the questions on the defensive end, to take a deeper Knicks team further into the postseason in coming years.