Philadelphia 76ers forward Andre Iguodala has been linked to the Cleveland Cavaliers in a trade rumor. Posted by Ben Golliver.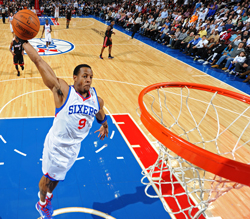 For the better part of the first five weeks of the season, Philadelphia 76ers forward Andre Iguodala has been linked to trade rumors, and for good reason. Iguodala's situation in Philly is past-cliche at this point: semi-star makes more than $10 million a year, his team still loses, it makes more sense for both parties to part ways rather than continue in expensive mediocrity. While Iguodala has been
publicly mum
, word started to slip out back in October that he was
open to a change of venue
. On Sunday, comes word that the Cleveland Cavaliers may be a player in the Iguodala trade market,
according to MorningJournal.com
.
League sources indicate the Philadelphia 76ers are attempting to trade guard/forward Andre Iguodala.
There is no active dialogue between the Sixers and Cavs right now, but a source said it was one to keep your eye on ... He would fit nicely into the Cavs' $14.5 million trade exception.
That trade exception, of course, was created by the departure of
LeBron James
to the Miami
Heat
this summer. That departure left the Cavs without a credible shot-creator and point-scorer on the wing, and without much reason for fans to continue to purchase tickets. Iguodala would fix those problems, and his price tag would like be worth it to Cavs owner Dan Gilbert, who is desperate for relevancy after getting humiliated (and humiliating himself) this past summer. The trade exception would be a nice flexibility play for the Sixers, but the price for Iguodala would likely be much higher. A draft pick and a young prospect, at the very least. One hold up to any Iguodala trade, however, is the uncertain development of
Evan Turner
. If Turner, the 2010 NBA Draft's No. 2 overall selection, can show he is a legit NBA player by the trade deadline, then moving Iguodala becomes significantly easier. If he's still the nerdtastic and inconsistent player he's shown himself to be so far, parting with Iguodala would set Philadelphia on an even more serious downward spiral.