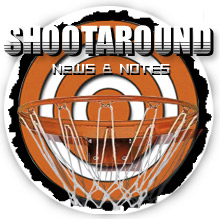 People trying to keep LeBron out of the All-Star Game, Jarrett Jack doubts the Heat, Durant and Beasley as young guns, and T-Will is out of sight, out of mind, all in today's Shootaround.
Posted by Matt Moore
There's a movement afoot specifically to keep LeBron James out of the All-Star Game. It's things like this that trot the fine line at the nexus of funny, pathetic, and mean. Props for the idea, but just because you don't like a guy's ego, is that really reason to sully a system to honor play that's been in place for decades? And this is all beyond the fact that it would take coaches about forty five seconds to select him as a reserve and then all of a sudden the person atually voted in would have a hamstring injury.
Terrence Williams looked like a star in the making last year. Now he's been suspended for two games for "violations of team policy" whle Avery Johnson is talking about him "not getting" it. A perfect example of how a coaching change can dramtically alter a player's forecast. Meanwhile, if Williams is on the block, the Grizzlies and Bulls should both be on the horn to see if they can grab him at a bargain bin price.
Jarrett Jack, a winner his whole career except for when he wasn't winning, which was most of his career, is already ready to pack it in on the Heat, saying their failure could curtail others from going the superstar route. In other news, Jack put the cart before the horse and said "Done!" before walking off. The Hornets are 0-1 since Jack arrived, clearly indicating he's not a winner. See what I did there? You see? Because he said ...
Spurs fans were joking about Ime Udoka being signed last week, and now it has happened . Still bizarre they thought Udoka was more valuable than Gee.
Flip Saunders, getting digs in on Doug Collins. Better hurry to get them in, he may not be around long.