Zach Randolph was linked to the Detroit Pistons in a trade rumor, but his agent denies it. Posted by Ben Golliver.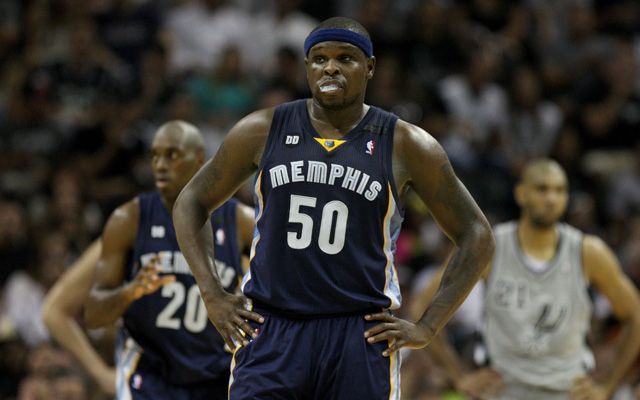 In its Nov. 8 issue,
Sports Illustrated
reported
that Memphis
Grizzlies
power forward, who put up an amazing 23-point, 20-rebound line last night, is seeking a ride out of town.
His six-year, $84 million contract expires after this season, and a league source says he's not happy that the Grizzlies didn't offer him an extension. Randolph, 29, has put up 20 and 10 in each of the past two seasons and last year shrugged off the loser label by powering Memphis to a 16-win improvement, earning his first All-Star berth. If the Grizzlies, who committed $82 million to Rudy Gay this summer and will have to spend big to retain free agents Marc Gasol and Mike Conley, are looking to deal, multiple sources say Randolph's preferred destination is Detroit, where he would fill the gaping hole in the Pistons' frontcourt.
In response,
the Memphis Commercial-Appeal quotes
Randolph's agent, Raymond Brothers, shooting down the rumor.
"There's no truth to that rumor," Brothers said. "All Zach needs is a basketball and a court to play on to be happy. Zach's happy. He loves Memphis. That's nonsense."
The Grizzlies can come to terms on a contract with Randolph any time this season. If no deal is reached, then Randolph will become an unrestricted free agent. And surely, there will be a market for a 20-10 All Star.
If I'm Memphis, having just committed massive dollars to both wing Rudy Gay and point guard Mike Conley, with guard
O.J. Mayo
and big man Marc Gasol due for extensions soon, moving Zach Randolph and his expiring contract at the deadline for a piece and/or draft picks makes a lot of sense. But a serious playoff run would be huge a morale boost for a franchise that needs it as badly as any in the league. In other words, Z-Bo trade talk should wait until at least January. If the Grizzlies are out of contention at that point, ship his reliable post production down the road, or up the river to Detroit if that's who is interested. The Pistons could do a lot worse than a
Greg Monroe
/ Zach Randolph frontcourt of the (near) future.