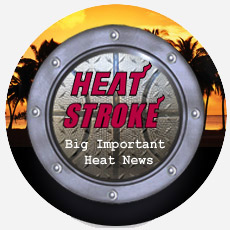 The Heat fall to the Nuggets for their eleventh loss, ending the desperate dream of them matching the '96 Bulls.
Posted by Matt Moore
There will be no joy in Mudville, mighty LeBron did sit out.
Before the season, the NBA's biggest question was not if the Heat would mesh, it was whether they would challenge the all-time best record for a regular season team set by the '96 Chicago Bulls at 72-10. On Thursday night, that dream was mercifully put to rest much earlier than most people anticipated. Following a deep November swoon, the Heat had righted themselves and at one point had won 19 of 20 games. But a West Coast road trip against a motivated
Blake Griffin
led to a shocker loss to the
Clippers
Wednesday, and on Thursday,
LeBron James
sat out Thursday's game against the Nuggets,
and the result was a 28-point loss
. And so they fall to 30-11.
72-10 is no longer within range.
It was a silly objective to begin with, hoping for a team laden with ancient role players, facing injury problems from the get-go, and trying to gel for the first time in a complex combination of talents to aim for the highest peak in historic NBA land. It became absurd over the opening stretch where the Heat went 9-8, exposing significant issues and showing that this team was a work in progress. From there, it was only a matter of time. That they managed to rebound as significantly as they did, driving the point of double digit losses into 2011.
And so it ends, not with a late season quest, under constant coverage from ESPN 24-7 (or from us, for that matter), but with a quiet road loss in a late game, downed by 28 points without the signature star they brought in amid the most controversial free agency decision in sports history. From the beginning, the Heat said that this season was about wins, not about 72-10. It was about a championship, not catching Jordan's Bulls. Now they've set the table. A loss in the playoffs and they cement themselves as the biggest disappointment based on expectations of the modern era. Win, and they show that all the hoopla over the regular season was inconsequential and that it is all about the rings. But unlike LA or Boston, who seem to lose nearly only when they lack effort, the Heat seem to lose when boiled down to their essential parts, when the chemistry doesn't mesh.
The glory of being legends has escaped the Heat. The pressure is now even greater to become champions. That's what they've put on themselves with all their behavior. Anything less than a championship and they are a disappointment to their fans and a joke to their detractors. Oddly enough, the word I keep thinking of is ...
Karma.