The Magic fail to bring the defense agains the Knicks and wind up 18-19 against playoff teams this season.
Posted by Matt Moore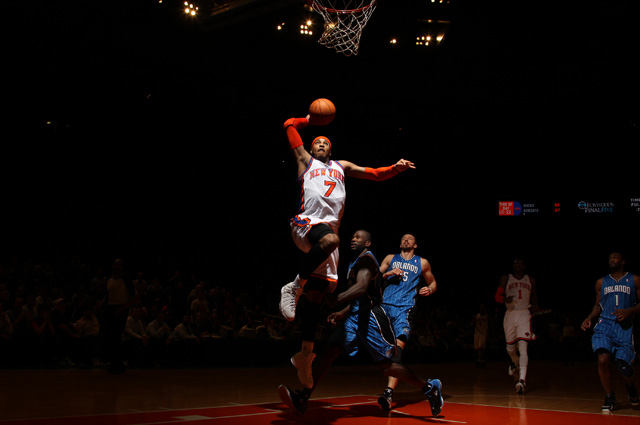 The Orlando Magic are now 18-19 this season against (current) playoff teams this season after their 113-106 loss to the Knicks Monday night. Granted, the Magic were without
Jameer Nelson
and
J.J. Redick
from the start and lost
Chris Duhon
to a jammed thumb during, but the result is the same. The Magic already won the season series with the Knicks, but now, just when they're trying to get momentum headed into the playoffs, they surrender this loss.
There will be talk of
Dwight Howard
's phantom sixth foul, of
Carmelo Anthony
initiating a trip of
Jason Richardson
that was responded with a trip on Melo by J-Rich that was the only one called. There will be talk of the injuries and a lot of random buckets that fell, but in the end, it was the Magic's usually stout defense that failed to get the job done.
The biggest red flag is Carmelo Anthony's superb performance. It's one thing to allow Carmelo Anthony 39 points. It's another to allow it on 26 shots and giving 17 free throws. Some shots, like the late-game pull-up buzzer beater in which
Hedo Turkoglu
was doing everything but throwing a steel net Melo, you just have to live with. But too often the Magic did a poor job of denying the entry pass, brought the double too late and at bad angles. Throw in the result of
having
to bring pre-emptive doubles and at times, triples, at Anthony, which were open floaters and threes for
Toney Douglas
, and you've got an overtime loss.
The Knicks' defensive effort really focused around turnovers. They turned over the Magic on 21% of their possessions, and held them to 43% shooting. For the Knicks, that's a
Celtics
-like performance. In particular, the Knicks' perimeter defense stepped up, a big reason why
Chauncey Billups
was +4 for the game. Keeping the perimeter attack in check, with good rotations, communications, and contests? Basically the Knicks did everything they haven't done in their woeful recent performances. Whether it was just an off night for the Magic, or as Jason Richardson
said post-game
, the Knicks were "starved" for a win, it's a game to build on for New York.
This was a must-win for the Knicks, and a game where the Magic just wanted to get through as they try and get healthy. But with the Magic taking 32 3-pointers, hitting just 11, it's a sign that this team isn't close to the roster make-up, nor the momentum of the '09 team. There's a five game gap between Orlando and Atlanta.
The difference feels much closer.