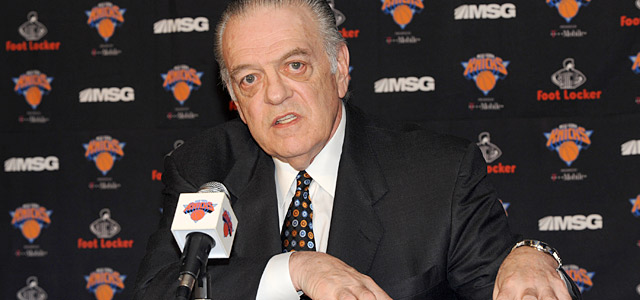 Posted by Matt Moore
In an absolutely stunning development, the New York
Knicks
announced Friday that Donnie Walsh would be leaving his position as President of Basketball Operations.
Read more on the Knicks' decision from Ken Berger of CBSSports.com
, who says the Knicks are facing dark days ahead without Walsh. The Knicks' statement from owner James Dolan:
"Following a long series of discussions regarding his future role with the New York Knicks, Donnie Walsh and I have mutually agreed that he will be leaving his position as president, basketball operations of the Knicks at the end of June. Donnie will remain with the team as a consultant for the 2011-12 season. In a relatively short time with the Knicks, Donnie made a tremendous impact, which will be felt for many years to come. We thank Donnie for his leadership, hard work and many contributions to the revitalization of the team.

"We will now begin an immediate search for a new president and general manager, but do not have a timetable for the decision. Glen Grunwald, the Knicks' senior vice president, basketball operations, will serve as interim general manager beginning in July, overseeing all player transactions. With some of the NBA's premier players, an outstanding coach and one of the league's most passionate and loyal fanbases, we are extremely confident about the future of the Knicks franchise."

Talk had begun of a two-year extension between the Knicks and Walsh as early as April 25th following the Knicks' first-round exit, Ken Berger of CBSSports.com had reported. The New York Post reported on May 5th that Isiah Thomas was possibly not returning as an advisor. Now the question will be what happened between the April 27th report that the extension of Walsh was coming within days, and Friday's dramatic re-invention of the Knicks.

Interim GM Glen Grunwald served as VP of the Denver Nuggets in the 90's before being hired as an Assistant General Manager for the Toronto Raptors by... Isiah Thomas. From a 2006 profile of Grunwald after joining Thomas in New York:

Thomas and Grunwald of course go all the way back to the University of Indiana where they were co-captains on the 1981 NCAA Championship team. Then, while Isiah Thomas was still leading the hopes and dreams of Torontos expansion franchise, he hired Grunwald and after Thomas headed south of the border, Grunwald was left to run the show. Grunwald spent seven seasons with the Raptors and while his contract as GM was not renewed after the Raptors 2003-04 season, he was responsible for many of the Raptors "highs" including three consecutive playoff appearances at one point. However even after his dismissal from the Raptors, Grunwald remained in Toronto taking a job with the Board of Trade and it seemed like Grunwald had found his new calling. But Isiah Thomas move from the front-office back to the bench where he will coach the Knicks this upcoming season changed all that. Thomas decided he needed some front-office help and reached out to his former right-hand man.
via
The Strange Tale of Glen Grunwald - Raptors HQ
.
Grunwald and Thomas' connection is obviously strong, as evidenced by the Knicks' statement from Thomas upon his hiring in 2006:
"Glen is a skilled NBA executive whose expertise will be a great asset to the New York Knicks," Thomas said. "I know him well from our days as co-captains on the 1981 NCAA Championship team at Indiana University and I hired him in Toronto, where he helped assemble a roster that made three consecutive postseason appearances. I consider him to be a quality evaluator of talent and a skilled communicator."
via
KNICKS: Knicks Hire Glen Grunwald
.
The obvious question is whether this move leads to a return by Thomas into power of the Knicks. Thomas was rumored to have been the deciding voice in the Knicks' quest to acquire
Carmelo Anthony
, prompting Dolan to override Walsh and surrender the house, the car, and the baby stroller to get Melo. When asked if Walsh minded Thomas' possible influence on Dolan after the trade, Walsh said he couldn't care less. From CBSSports.com's Ken Berger:
What role did Isiah Thomas have in the Knicks' successful pursuit of Carmelo Anthony?

"I have no idea," Walsh said, understandably reacting testily to the incessant drumbeat about Isiah's role. "Only what I read in your papers. … I'm assuming Isiah's getting ready for the NCAA Tournament. That's what I'm assuming."

Maybe in the office pool, but not on the court. Thomas' Florida International team is 9-17.

Asked if it would bother Walsh if Madison Square Garden chairman James Dolan was keeping with his word and continuing to solicit Thomas' views – as he said in a statement announcing the team was no longer pursuing Thomas' employment as a consultant – Walsh said, "I could care less. There are a lot of people that talk to him, all right? I could care less."
via
Walsh doesn't care about Isiah's role - CBSSports.com
.
A M
ay 2010 New York Post report indicated
that Grunwald's contract was expiring and he may not even return. Now he's in charge of the Knicks' decision making on personnel until a new GM can be put in place. It's possible Grunwald won't have any impact on decision making, in light of the nearly certain lockout on July 1st. By the time the labor dispute is settled, a new regime could be in place. Still, the move reeks of a storm cloud moving in called Isiah.
The decision also stands out as the Knicks have non-Thomas affiliated personnel who could have taken over in Alan Houston, former Nuggets' exeutive Mark Warkentien, and John Gabriel. Grunwald is said to be a shrewd talent evaluator, but his decision history over the last decade leaves quite a bit of concern.
Ken Berger reports on why this move may have gone down and it's a one-word answer: control.
Throughout Walsh's discussions with Dolan about his future, it was clear from multiple sources with knowledge of the talks that Walsh would not stay with the Knicks if A) he would not have final say over basketball decisions, or B) there was a chance he could be overruled by the Garden's many agenda-driven outside influences. The most sinister of those was former team president Isiah Thomas, who remains in close communication with Dolan and in the MSG chairman's circle of trust – despite running the franchise into the ground and turning the Knicks into a league-wide embarrassment.

"They were a joke for six years," a rival team executive said Friday. "What Donnie has done for that organization, you've got to be kidding me. Come on. The whole world has paid attention to basketball in New York because of the guy – in a positive way."

And they're paying attention again – for all the wrong reasons.
via
Wash's departure means dark days back for Knicks - CBSSports.com
.