Posted by Ben Golliver.

Rankings by EOB Staff.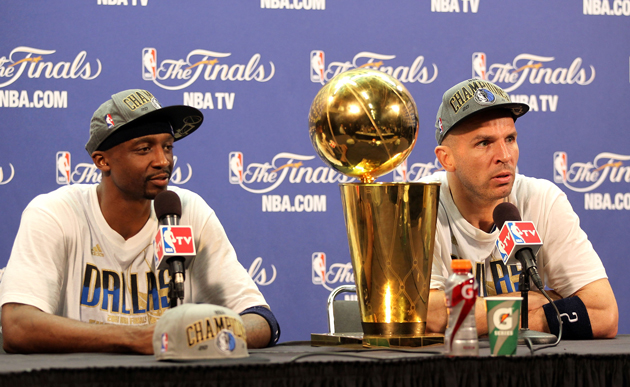 This is the fifth segment of the CBSSports.com Eye on Basketball Elite 100, counting down the top-100 players in the NBA.
Check out the earlier installments: 100-91 | 90-81 | 80-71 | 70-61
As we near the halfway point in our countdown of the top-100 NBA players, we take the opportunity to honor two first-time NBA champions who share a first name, a position (guard) and an age bracket (old). Dallas guards Jason Terry and Jason Kidd were both critical components of the Mavericks' run to the 2011 NBA title, highly-skilled role players who outpaced expectations in the postseason to provide franchise forward Dirk Nowitzki with the help he needed to take down the Miami Heat.

For their contributions, Terry and Kidd both find themselves in the 51-60 range, along with two Utah Jazz forwards, two polarizing big-dollar pivotmen and four other players who range from young and immensely talented to nearing their last legs.

Without further ado, let's proceed.
60. Al Jefferson, F, age 26, Utah Jazz
2011 Stats: 18.6 points, 9.7 rebounds, 1.9 blocks, 49.6 FG%, 20.20 PER
Composite rankings (random order): 62, 53, 62
The wide-bodied Jefferson stared basketball death in the face twice – first by playing for the Minnesota Timberwolves, second by tearing his ACL – and he lived to tell about it, playing in all 82 games for the Utah Jazz last season and returning to his near 20-10 form. Jefferson can't be mistaken for an all-around player: he's a liability defensively, is a bit of a black hole and he doesn't boast much range. But he can fill it up around the hoop, take up space in the paint and secure a solid portion of the boards.
There are a lot of parts in Utah's frontcourt, especially after the Jazz used the No. 3 overall pick to select Enes Kanter, but the fit is questionable and further roster shake-up is definitely a possibility. Thanks to his big-dollar contract that extends through 2012-2013, though, Jefferson is likely to remain in place through next season as a stabilizing force in the middle surrounded by a roster in flux.
59. Brook Lopez, C, age 23, New Jersey Nets
2011 Stats: 20.4 points, 6.0 rebounds, 1.5 blocks, 49.2 FG%, 19.33 PER
Composite rankings (random order): 55, 67, 55
Talented, promising seven-footers are rare in the NBA, especially those who boast 20 points per game scoring ability, no major injury history and excellent character. That's Brook Lopez, and together his skillset and background combination is rarer than a needle in a haystack. The only problem? It's a big one: Lopez isn't a particularly productive rebounder and hasn't proven to be a game-dominating force in the middle. His rebounding and block numbers took a step back in his third season as a pro and the Nets won just 24 games.
On a better team, Lopez would score less, shoot a lot less and be required to do significantly more dirty work. Still, on anybody's team, he stands as a solid core piece.
58. Jamal Crawford, G, age 31, Atlanta Hawks
2011 Stats: 14.2 points, 3.2 assists, 1.7 rebounds, 42.1 FG%, 14.29 PER
Composite rankings (random order): 62, 57, 55
Arguably the league's most fun scorer to watch operate, Crawford has every dribble move you could ask for, plus a pretty shooting stroke to boot. He's fearless and fearsome with the ball in his hands and he gives the impression that he would be happy to play hoops anytime, anywhere. But during his age 30 season, and his first year under new coach Larry Drew, Crawford saw his scoring productivity take a significant step back (from 18.0 points in 2009-2010 to 2010-2011) even though his playing time remained essentially the same.
That wasn't great news for Crawford, who was in a contract year and is likely approaching the downside of his career. His defense has long been suspect. Crawford would make an excellent role player on a contender that needed some scoring pop off of its bench and it will be quite interesting to track where he lands during free agency.
57. Thaddeus Young, F, age 23, Philadelphia 76ers
2011 Stats: 12.7 points, 5.3 rebounds, 1.1 steals, 54.1 FG%, 18.46 PER
Composite rankings (random order): 61, 61, 50
Young probably qualifies as a surprise for being so high on this list. He can thank his potential and his player efficiency rating for that. His overall efficiency is driven in large part by his high shooting percentage and an excellent scoring rate in a reserve role.
Doug Collins leaned heavily on veterans Elton Brand and Andrew Iguodala last season – shocker, I know – but Young was still able to show plenty during his turn through the frontcourt rotation, more than enough to make him a top priority for the Sixers during the free agency period. At 23, and with further development still ahead of him, Young should command a sizable offer. Philadelphia shouldn't hesitate to match as long as it isn't totally ludicrous.
56. Ty Lawson, G, age 23, Denver Nuggets
2011 Stats: 11.7 points, 4.7 assists, 2.6 rebounds, 1.0 steals, 50.3 FG%, 17.99 PER
Composite rankings (random order): 52, 54, 66
A favorite of the advanced stats community dating back to his time at UNC, Lawson entrenched himself as the starter in Denver, so much so that the Nuggets moved Raymond Felton, a starting caliber point guard himself, to the Portland Trail Blazers for Andre Miller, a veteran who should slide nicely into a big-minute backup role. The key to Lawson's game is exceptional quickness and speed as well as his excellent shooting touch. That makes up for the fact that he's often an undersized defender, and his toughness helps too.

His minutes and production should continue to rise next season. On a post-Carmelo Anthony team full of questions and free agents, plus a rotating cast of characters, Lawson is the surest thing.
55. Carlos Boozer, F, age 29, Chicago Bulls
2011 Stats: 17.5 points, 9.6 rebounds, 2.5 assists, 51.0 FG%, 18.90 PER
Composite rankings (random order): 68, 47, 56
In his first season as a Chicago Bull, Boozer continued to be who we thought he would be: a multi-dimensional offensive force who doesn't play much defense and isn't quite reliable enough to be the No. 2 guy on a title-winning team. On paper, pairing Boozer with center Joakim Noah, a defense and rebounding specialist with energy for days, makes all the sense in the world. Injuries to both players probably slowed their acclimation together and it's possible Year 2 for the new-look Bulls will be even more profitable than Year 1, which ended with tons of awards and a trip to the Eastern Conference Finals.
The new standard has been set though: beat the Miami Heat. A scapegoat has been established too: Boozer. The four years and 60ish million dollars remaining on his contract make the bulls eye on his back even bigger.
54. David Lee, F, age 28, Golden State Warriors
2011 Stats: 16.5 points, 9.8 rebounds, 3.2 assists, 1.0 steal, 50.7 FG%, 17.86 PER
Composite rankings (random order): 60, 58, 52
Speaking of highly-paid and polarizing power forwards, Lee was forced to deal with falling short of big expectations last season as well. Signed as a major money free agent by the Warriors in the summer of 2010, Lee was seen as the much-needed inside presence to complement an up-and-coming backcourt combination of Monta Ellis and Stephen Curry. Lee's scoring numbers took a hit playing with the pair, who can each fill it up, raising questions about whether Golden State's core needs a bit more diversity in its skillset.
All (well, most) signs point to the new Warriors ownership getting the franchise moving in the right direction; whether or not Lee is able to get back to his 2009-2010 contract year production levels will be a major factor in determining how quickly Golden State is able to reach its goal of making the playoffs.
53. Jason Terry, G, age 33, Dallas Mavericks
2011 Stats: 15.8 points, 4.1 assists, 1.1 steals, 45.1 FG%, 15.93 PER
Composite rankings (random order): 58, 43, 59
2010-2011 wasn't Terry's best season statistically but there is no question that it will be the campaign he remembers most vividly when he looks back on his career when he eventually retires. Quite simply it was a dream. Terry has entered the fourth quarter of his career arc at 33 years old but he remains an excellent shooter and pick-and-roll operator with a penchant for taking and making shots at opportune moments. He has to worked around defensively because he's undersized for his position and is getting a bit long in the tooth but Dallas found the right mix, allowing him to focus on what he does best: make shots and talk trash. A key emotional leader, Terry's confidence never wavered in the playoffs and his swagger put an exclamation point on the Mavericks' team effort in the Finals.
It's likely all downhill from here for Terry. But who cares? He reached the pinnacle.
52. Paul Millsap, F, age 26, Utah Jazz
2011 Stats: 17.3 points, 7.6 rebounds, 1.4 steals, .9 blocks, 53.1 FG%, 19.83 PER
Composite rankings (random order): 54, 53, 53
Thanks to the departures of Deron Williams and Carlos Boozer in the last 14 months, Millsap has improbably moved into the centerpiece mainstay role for the Jazz, at least until young forward Derrick Favors has another three or four more seasons to develop. In hindsight, Utah was extremely wise to match a toxic offer from the Portland Trail Blazers when Millsap was a restricted free agent during the summer of 2009. His work ethic, energy and consistency are unquestioned, and Millsap provides valuable contributions both inside and outside on offense.
Will he ever reach All-Star status? Probably not, especially because the Western Conference is loaded at his position. How Jazz coach Tyrone Corbin will get production from Millsap and Jefferson, while also developing Favors and Kanter, remains a bit of a mystery. Until the youngins are ready, though, Millsap is more than happy to trot out his hard hat and lunchpail game 82 nights a year.
51. Jason Kidd, G, age 38, Dallas Mavericks
2011 Stats: 7.9 points, 8.2 assists, 4.4 rebounds, 1.7 steals, 36.1 FG%, 14.46 PER
Composite rankings (random order): 49, 44, 64
As with Terry, the 2010-2011 season was the best of Kidd's career, even if his production was a far cry from the days in which he put up triple-doubles on the regular. Kidd was a pleasure to watch this season as he did so many vital things so well. He knocked down open jumpers. He exhibited excellent shot selection, almost always preferring the extra pass to a contested shot of his own. He orchestrated the halfcourt offense brilliantly, knowing when it was time to force-feed Dirk Nowitzki and when it was time to swing the ball around the perimeter. He defended larger players well, using his quick hands and excellent instincts to more than make up for his lack of lateral quickness. The list goes on and on but he was about as important as any NBA player has been at the age of 38.
For all of that, he got his first ring. A fitting lifetime achievement award for a surefire first-ballot Hall of Famer.