Posted by Royce Young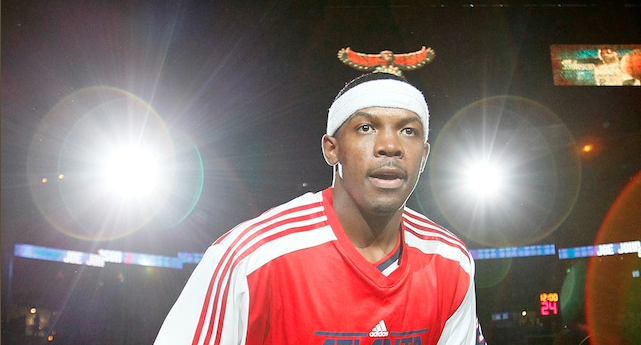 OK, so take this in from
Joe Johnson
,
via ESPN the Magazine
:
"I wanted to display all of my shoes, so I had this 500-square-foot closet made. I just thought this would be a cool idea, and it would almost look like a museum. I had a fingerprint sensor put on the door to make sure I'm the only one who can get in here. I mostly wear Air Jordans. All of the Jordan guys are selected by Michael Jordan himself. It's kind of hard to tell MJ no. I have 436 pairs of sneakers in here, and they're mostly unworn. I'll wear all of them eventually."
Johnson of course has the money to do this because of his kind of outrageous $120 million contract. His money, his perogative. But remember, he's also
the guy that owns this truck
.
Considering these two factors, kind of tough to feel all that bad for him and players like him in this whole lockout thing. I mean, he must really be needing the players to hold out for more of that BRI in case he needs to expand his shoe close to 600 square-feet or something.
Look, we know professional athletes have money. They have it
because
of us. We watch their games, buy their merchandise, buy the tickets, buy their shoes. We're total enablers. But at the same time, it's a little tough to take something so in-your-face like this when all we care about now is getting to watch those games again. Good for you, Joe. You've got like a million pairs of shoes. And a giant closet to hold them. And a massive contract you probably don't deserve.
It's not fair to characterize every NBA player based off of Johnson's lavish lifestyle, but it's inevitable. I can't sit here and tell you that if I had that kind of money that I wouldn't have a 500 square-foot closet to hold a single pair of pants, just because I could. But this is the heart of the lockout. Owners know players live these type of lives and while maybe they can't bleed them broke, they know that players at least want to maintain their life of leisure and wealth. And why wouldn't they?
Again, it's really just an example and not the norm for all players by any means. It certainly doesn't help the stereotype.
Via BDL