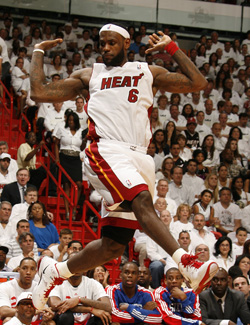 We reset the Sixers-Heat series as Game 2 approaches. Can the Sixers get over the hump instead of just challenging?
Posted by Matt Moore
The Narrative:
What, an Eastern favorite didn't need a game winner to close out their first game in the first round? Crazy talk! The
Heat
just kind of took care of business after a shaky start and then busted down a Sixers charge. Feisty is probably the worse for the Sixers right now, but if you don't win, that doesn't translate to much. Game 1 pretty much established we're likely not going to see a blowout series, but also that the Sixers are outmatched.
The Hook:
So what's that mean going forward? It means the Sixers have a chance. They're overmatched, yes, but not to the degree they can't be competitive in the series. The key for them is going to be effort. When you don't have the talent edge, you have to rely on a supreme effort. Without that, the Sixers are just trying to match up, which they can't. But with the Heat feeling confident, even after a close win in Game 1, there might be room for an upset. Getting a big head start again is key, just as much as keeping it.
The Adjustment:
Who to help?
Chris Bosh
kiled the Sixers in Game 1 with 25 points. So do you bring help on Bosh and leave yourself open to damage from Wade and James? Or do you sacrifice open looks for the Heat shooters? The answer is the latter, obviously. The best strategy against the Heat is to focus all the energy on whichever of the Triad is hot and hope the sub-par support players on the Heat choke themselves out.
The X-Factor:
Thadeus Young. Young was downright relentless in Game 1, and especially in the fourth quarter. The Heat primarily tried guarding him with Chris Bosh and
James Jones
. It did not work. As problematic as
Andre Iguodala
can be for the Heat, they may want to keep
LeBron James
on Young and stick Wade on Iguodala.
The Sticking Point:
According to
Synergy Sports
, the Sixers ran seven transition plays in the first quarter. They only had eight opportunities the rest of the game. If the Sixers want a chance to make this competitive, they have to keep pushing the ball. They can't count on turnovers, so it's going to take
Jrue Holiday
setting the tone. The Heat have no one to check Holiday without exposing themselves to significant risk, so the Sixers have to make them pay. If they let the Heat grind the game down and stretch it out, they're going to get worn down into four losses and an early exit.