A list of NBA deals on the biggest shopping day of the year. Posted by Matt Moore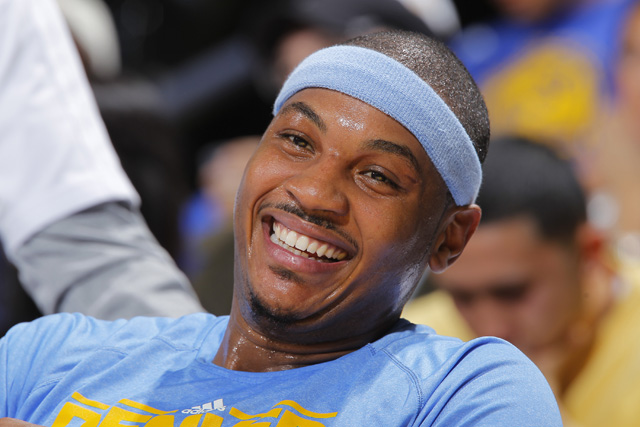 As we speak the hording masses are overrunning exhausted store clerks in a mad Turducken-leftover fueled crush of commerce that we call Black Friday. From sweatpants to hot pants to hi-def televisions and tablets with screens two sizes too small, the countryside is alive with the sound of financial transactions, and everything is on sale.
But what about in the NBA? Surely as your aunt is busy buying you long underwear that looks like it may have been part of Carrot Top's personal brand, there are similar discount deals available across the league, and indeed, we have some. If your team is looking for that perfectly holiday gift to complete their team, here's a few of the bargain Black Friday deals they can find on sale right now.

Expiring Veteran Power Forward, 50 cents on the dollar!
Troy Murphy
is healthy. Troy Murphy has a good track record of production. Troy Murphy is not with the
Nets
. The Nets
sent him home
to "get in condition" even though he says he's good to go. It's partially because he's having trouble getting up to speed with his injury and partially because Avery Johnson is as temperamental as that
dynamite they found on LOST
. Just because it's not working out for him so far in New Jersey doesn't mean he wouldn't work fine. He's like that toaster with the beat up box that's sold as-is.

Numbskull Wing, Buy 1, get 1 pick free!
Speaking of Avery Johnson and his endless spring of patience,
Terrence Williams
is
also at home
, after being suspended for violating team rules. Now,
Ben Golliver thinks Williams is just a knucklehead
, and that's certainly possible. But this is the NBA. Knuckleheads make millions of dollars and wind up winning championships. Williams is talented but apparently doesn't have a spot in Averyland. Teams looking to snag a rookie contract with some talent can likely get Williams for a kind word and low first round pick at this point. Throw the Nets a bone with some actual talent and you can likely swing Williams and one of the Nets' picks. That is if Avery doesn't let him go on Black Friday all together.
Slumping Sub-Star, 75 cents on the dollar!
O.J. Mayo
is in a slump. He hasn't hit a wall, he's not regressing, he is still the third best player on the Memphis
Grizzlies
. But he's hit a slump. And instead of the endless amount of patience spent on
Mike Conley
over the past four years (which is working out brilliantly for the Grizzlies, despite my being a moron and blasting him as the worst point guard in basketball which is no longer true), apparently all those games O.J. helped win them mean less as he's been jerked to the bench. Lionel Hollins says
it's just because he wants scoring punch off the bench
. But
Xavier Henry
is now starting, despite him being approximately as prepared as a 9th grade pothead for organic chemistry. With Mike Conley's (totally reasonable!) extension, and
Marc Gasol
and
Zach Randolph
also due extensions, moving Mayo would simplify matters significantly for the Grizzlies. But they have to do so while he's in a slump. Trading a brilliant scrorer while he's lighting it up just won't do. Get 'em while the Mayo's... nevermind.
"Off-Limits" Superstar, Super-Secret Bargain Find!
Denver's 8-6. Which ain't bad. It's also not great. And while there have been times when Denver looked decent, there have also been times when they look like they're inches away from utter implosion. and still... Melo doesn't have an extension.
And without an extension, he's still on the market. Denver's holding out hope, but they're also swaying. It just takes the right set of pressure applied to the right time to get a crack. And from there, you've got Melo. The idea of needing him with extension is fading as teams start convincing themselves they can convince him at season's end. So the trick is to apply the pressure and get Ujiri at the right moment before the offers start increasing, driving the value up. Melo's not off the table. And as long as he's not locked down, he's for sale.

Mega-Star Up for Grabs, Inquire For Availability
.
Chris Bosh
can't be on the market. Right? I mean, he can't be. He just got there. But if there's one member of the team that best represents the failures of the team's promise, it's Bosh. Bosh, who never waned to play center specifically because he's not made of steel and brawn, has been seen as a failure because he isn't those things on a team that needs it. He's less of a power forward and more of a grace forward. At least LeBron's got the numbers; Bosh has a few nice games and that's all.
Moving Bosh would be nearly impossible even if the
Heat
wanted to, due to the fact that right now he looks like a weak-willed third wheel with a massive contract. But if some team really wanted a superstar and had a package of talented bigs to offer, it's hard to see Pat Riley not at least writing the figures down on a notepad to kick around later.
Vintage Antique, Will Accept Best Offer.
Juwan Howard
is easy to make jokes about at 37 years old. But he got it done for the Blazers last year and wasn't the worst Heat player this year. If your team needs a big with experience, Howard's got it in spades. Just make sure you wipe the dust off the bottle.