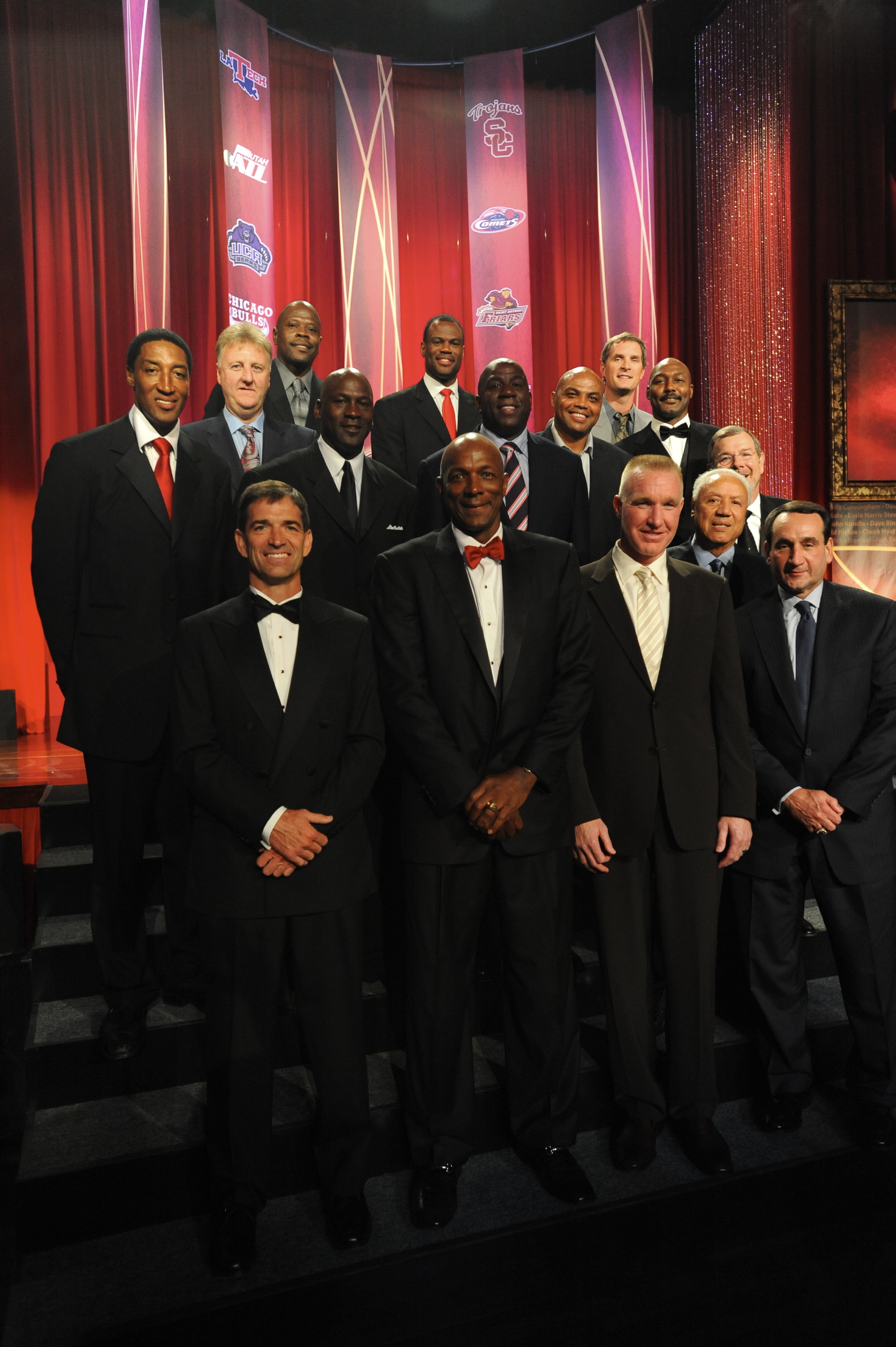 Posted by Royce Young
For whatever reason, Hall of Fame induction ceremonies tend to get a little dusty. When all-time greats have their moment in front peers, friends and family to speak about teammates, coaches and the game itself that meant so much to their life, the emotions come out. And though it can be awkward to see a man of Karl Malone's size and strength shed tears, seeing that emotion on display is sometimes what makes these induction ceremonies so great.
Eight people and two teams were inducted into the James Naismith Basketball Hall of Fame Friday night in Springfield, Mass. Karl Malone, Cynthia Cooper, Jerry Buss, Scottie
Pippen
, Gus Johnson, Dennis Johnson, Bob Hurley,
Maciel
"
Ubiratan
"
Pereira
, the 1960 Olympic team and the 1992 Dream Team were all honored with basketball's highest honor.
Pippen

was the first to have his moment
and he spoke at length about what teammate Michael Jordan meant to him, but also about what it was like playing for all-time great coach Phil Jackson.
Pippen
was inducted by Jordan and as anyone would expect,
Pippen
played his role perfectly even in the spotlight of the Hall of Fame and deferred to teammates and coaches, finishing by saying, "It has been a great ride," and then pausing for a moment, his head bowed while everyone waiting in silence. "For all this I say thank God, and thank you."
Malone was in tears from the moment he took the stage
, using a handkerchief from his tuxedo to wipe his eyes. He spoke at length about his other loves, including hunting and what it meant to be raised in the country in Louisiana. He also talked about playing with John Stockton and under Jerry Sloan, two Hall of
Famers
who were inducted last year. He was extremely appreciative of former
Jazz
owner Larry Miller, and the organization itself as well. The Mailman was humble, appreciative and said, "I hope I did it the way my peers did it before me. I didn't do anything but try to play hard. I didn't have a motive, it wasn't about me. It never was about me and it's not about me tonight. It's about a lot of other people."
Both Dennis and Gus Johnson were inducted posthumously by family members. Cynthia Cooper, a four-time champion with the Houston Comets, gave a speech that was quietly fantastic as she talked about her desire to play in front of friends and family while also mentioning her deceased mother who she said was watching in heaven. "And it's in
HD
. That's how God does it."
Bob Hurley, the head coach at St. Anthony's High School in Jersey City, N.J. for the past 38 years, was inducted as only the third high school coach to the Hall.
Laker
owner Jerry Buss talked about how he never dreamed of being a Hall of
Famer
and for good reason. He said when these other people were 21 years old, this was the ultimate dream for them. But it was something never in his wildest. He finished by saying, "I added a little Spanish by getting a future Hall of
Famer
, and voila, another two championships. Life is good. Life is sweet."
Pereira
, a deceased three-time Olympian from Brazil and World Championship gold medal winner in 1963, was presented into the Hall by current NBA Brazilians Anderson
Varejao
and
Leandro
Barbosa
in a videotaped tribute.
Then of course the two Olympic teams. Jerry West, one of the stars of the 1960 team, spoke about the greatest thrill in his life was accepting his gold and standing on the top wrung of the podium next to Oscar Robertson as the Star Spangled Banner blared.
Magic
Johnson spoke mostly for the Dream Team and went down the line recounting a memory about each player. He mention about how he'll never forget what a young Michael Jordan said to him and Larry Bird. "Larry and Magic, you had your run. But there's a new sheriff in town."