The Lakers have never had a reason to panic, until now.
Posted by Matt Moore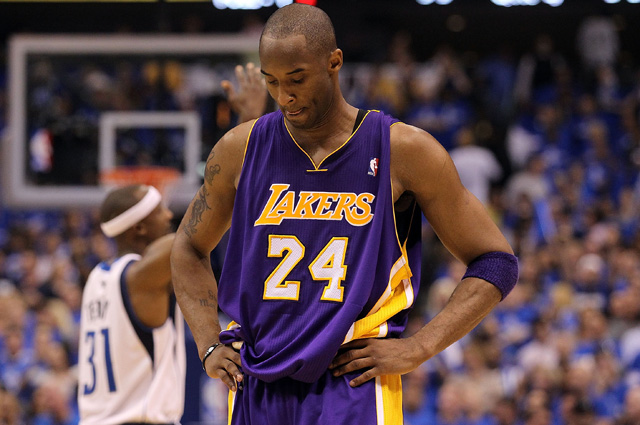 There's never a good time to panic. It does you no good to freak out, and the only way to solve a problem that would call for such behavior is to behave in the exact opposite manner; with poise and control. And for a championship team like the Lakers, there's no such thing as a panic button. They've been victorious too often, overcome too many challenges, risen up and simply been better in too many series. They don't know what the panic button looks like.
But maybe they should after Game 3's stunning loss to the
Mavericks
, to go down 0-3. Maybe then they'd have some level of urgency in their play, some level of commitment to closing games. The Lakers we're witnessing are in many ways the ultimate embodiment of the team we've seen for years in L.A. . They assume they'll be better simply by having the talent. Victory is assured once they step on the floor, even if
Ron Artest
doesn't step on said floor. Instead, they've found themselves on the brink, as Dallas has surged ahead in every fourth quarter of this series. And what does
Kobe Bryant
say after the game?
"I might be sick in the head … because I still think we're going to win the series," Bryant said. "I might be nuts."
Bryant said he wasn't discouraged after the game. In the same calm, cool, collected manner, he exuded confidence bordering on arrogance, even after he started 5-5... and finished 3-11, with a key turnover late that may or may not have been
Pau Gasol
's fault. Bryant's not concerned because when he's had the manpower, he's never failed. 2005-2007? He could blame the roster. Not this one. This one is on the mindset, and that reflects its leader. So why is Bryant so calm, cool, and collected?
Because he can be. Because if any team can come back from an 0-3 deficit for the first time in league history, it's the Lakers, and if any team could cough it up, it's the Mavericks. It seems absurd that it has come to this, but it here we are. Bryant remains indignant to the idea that the Lakers should be concerned. After Game 2, Bryant told reporters that everyone was "trippin'" because they acted like no one had ever won two games before. In reality, they were talking about winning two games on the road after blowing your first two at home. Bryant never wavered from the script after Game 3, talking about mental mistakes like this was a game against Minnesota in February. There's maintaining your composure, and there's refusing to acknowledge your situation.
There was discussion that the Lakers played "desperate" in Game 3, but we saw the same lazy rotations, the same deviation from effective strategy, the same failure to secure key plays. They are who they've been: a team with extremely talented players with superior physical attributes that doesn't respond when challenged. In years past, the Lakers would respond right when they had to in order to avoid hitting the panic button.
Panicking won't help the Lakers win Game 4, or four straight, which is what they must do. But coming to terms with their situation may be the only way for the Lakers to really see where they've landed. There's a time for patience, confidence and even arrogance.
That time has come and gone. If the Lakers can win this series, it will be the ultimate validator of their overconfidence. If they cannot, it will be the final verdict on a core that won two titles and yet infuriated its fans and too often played with the flame.
Eventually you get burned.