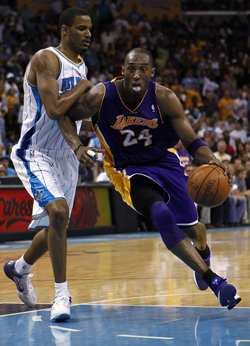 By Matt Moore
Since the
Lakers
' season has started about as disastrously as you can without a major injury, there had started to be rumors. That's what happens with a high-profile team full of high-profile players in a dramatic environment. There were actually suggestions last week that
Kobe Bryant
could potentially pursue a trade with the lack of significant roster upgrades. In an interview with Yahoo Sports, Bryant made quick work of that nonsense.
Q: Do you see yourself retiring with the Lakers? There's been speculation you might want a change.

Bryant: "I don't know where that comes from. I don't have any feeling about [leaving] whatsoever."

Q: So you definitely want to stay a Laker?

Bryant: "Of course. No question. Why not? I've been here for 16 years. I'm going to up and leave now?"

Q: Do you want to be one of those rare stars that played in only one place during a long NBA career?

Bryant: "Oh yeah. That would be special. It's rare to see that nowadays. It's almost nearly impossible."
via
Kobe Bryant Q&A: Laker for life? - NBA - Yahoo! Sports
.
Bryant won't be going anywhere anytime soon. He's not going to be the star he is anywhere else, and his legacy is best reflected by retiring a Laker. What is possible? The Lakers eventually moving or ditching him.
Sounds insane, doesn't it? But the Lakers have never put sentimentality ahead of what's best for the team. Their relationship with former players is a minefield of tense situations. Jerry West has a troubled relationship with the organization, for crying out loud, and he's the NBA logo. Shaquille O'Neal, Kareem Abdul-Jabbar, the list of players whose tenure has ended badly or gone on to sour is long and
Lamar Odom
recently joined the list. The franchise puts itself before the players, which has its advantages given some of the poor decisions made by franchises out of loyalty at times, but it also has impacts on things like legacy.
The Lakers have already made it clear where Bryant stands in the organization. In the interview, Bryant mentions how the franchise simply doesn't consult with its players when making personnel decisions, be they hiring Mike Brown as head coach or trading Lamar Odom. Players play, coaches coach, management manages. But at least Lakers fans can rest assured that as long as Bryant is able to hit a jump shot, he'll have a home and isn't looking to upgrade any time soon.
With
Pau Gasol
and
Andrew Bynum
, along with
Metta World Peace
and
Matt Barnes
, the Lakers are still a formidable team in the West. They failed to upgrade at point guard and lost their sixth man in Lamar Odom. But there's more than enough talent on this team to make a run at the title. And it's hard to believer Lakers management doesn't have one more trick stored in its bag to upgrade. The Lakers' run is far from over.