Michael Jordan speaks to Bulls fans at celebration of 1991 championship team, and puts heavy expectations on Derrick Rose's current Bulls as contenders not just for one title, but six.
Posted by Matt Moore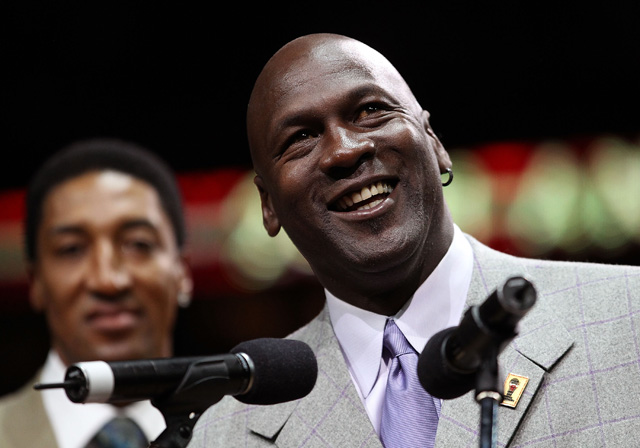 Saturday night Michael Jordan returned to Chicago along with Scottie Pippen and the rest of the 1991 NBA Championship Chicago Bulls team to celebrate the 20th anniversary. During his remarks to Chicago, looking back fondly on the start of the dynasty and his time as the greatest player in the game, which would stand out as the best stretch of any player in history, he looked forward upon this current Bulls team. And in doing so, he placed quite a heavy burden on their star and MVP candidate, Derrick Rose.
This night was a quiet, lowly publicized celebration of a great team, but it also stands as a dramatic moment to truly launch the future of this Bulls team as currently constructed. Entering the season, the Bulls were considered an up and coming team, one that should challenge for homecourt advantage in the first round. Against the
Jazz
on this celebrative night, the Bulls had an opportunity to take a share of the lead for homecourt advantage throughout the Eastern Conference playoffs. Entering the season, Derrick Rose questioned why he couldn't wind up as an MVP candidate. Against the Jazz, he gave another lesson as to why he is, in many people's mind, the Most Valuable Player in the league. The Bulls have a chance at not only causing some damage in the playoffs, but legitimately pushing for a title... this season. They're ahead of where most thought they would be, thanks to Rose's ascension and the work of Tom Thibodeau which will likely earn the first-year head coach Coach of the Year honors. Everything is coming together, and the fact that the greatest player of all time spoke to the potential for this team to win multiple titles only reinforces what many fans believe: this is a special year for the Bulls.
But to examine the two seasons in parallel is to find stark differences. And those differences start with Rose and Jordan. I was curious how big the gap between Jordan's first championship season with Chicago and Rose's prospective first championship season would be. The
results speak to how truly great Jordan was
.
Jordan averaged nearly seven more points than Rose (31.5 to 24.7) per game, nearly two more rebounds, nearly 2 more steals, and more blocks. Rose is shooting a career low 44% from the field, while Jordan shot a rifreakingdiculous 54% as a shooting guard. Of course, as Rose is a point guard, his impact is felt not only in scoring but in assists, where he is averaging 2.5 more per game than Jordan did. Factor in that Rose's
weighted assists
(factoring three-point assists) is considerably higher at 9.2 per game, and the total points produced gap narrows somewhat. But the divide is still a gulf, that showcases exactly how good Jordan was that year.
Perhaps most interesting, though? Is
comparing the "sidekicks" for the two players
. Scottie Pippen, still just 25 in '90-'91, actually scored fewer points, snared fewer rebounds, and shot a worse percentage than
Carlos Boozer
is this season. That was surprising information, and shows you how good Boozer has been offensively this season. Now that we've noted that, we can bring to everyone's attention that Boozer is the primary offensive weapon next to a superstar point guard rather than an offensively centered shooting guard, and that the defensive gap between the two is wider than the Great Wall of China is long. (Though it should be noted Boozer actually has a better Defensive Rating than Pippen at 99 versus 102.)
On the team level, the
two
teams
are similar stylistically. Both teams are/were constructed as slow-pace teams (19th for the '91 team, 23rd for the '11 squad). But their performances differed greatly. The '91 team was first in offensive and seventh in defensive efficiency, while the '11 team is first defensively but 17th offensively. Defense may win championships, but the '91 team was better balanced between the two sides.
In the end, though, comparing the two is nothing more than a fun mental exercise. Both are great teams with huge potential. But Jordan's comments put even more pressure on Rose to reach the heights Jordan did at age 27 when Rose is just 22. It's an enormous shadow for Rose to walk in, one that he's been faced with since being drafted by Chicago. But there's a gap between an unspoken comparison to No. 23 and having the man place the burden of six titles on you at such an early point with such an uneven offense in such a stacked conference. Perhaps that's why Jordan did it, though. Maybe he sees in Rose the same thing that made himself the greatest of all time, the drive to overcome all challenges through determination and the will to defeat all challengers. After all, Rose doesn't have to be as good as Jordan.
He just has to be better than everyone else now.