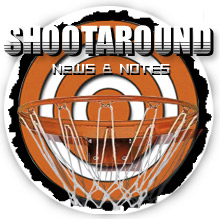 Sasha Vujacic gets engaged to Maria Sharapova, the Bulls need to get engaged with one another off the floor, Mike Miller is disengaged for several weeks, and Dwight Howard is engaged on the microphone, all in today's Shootaround.
Posted by Matt Moore
Remember
that thumb injury
for Mike Miller we shared with you yesterday? Yeah. So, Brian Windhorst is reporting that
it's going to be "several weeks" on that
. The new Era d'
Heat
is starting off swimmingly. All they need is an outbreak of cholera and a bus accident.
May the Fates bless you in your travels, Darius Miles. Miles
was cut from the
Bobcats
yesterday , in what could be the nail in the coffin on his "career." Pay attention,
Blake Griffin
. This is what happens to
Clippers
.
Sam Amico of NBA.com and FSN Ohio says the Blazers,
Rockets
, and
Spurs
, but especially Blazers,
are also interested
in
Anderson Varejao
. We
continue to be perplexed as to why
.
Martell Webster
will have an MRI on his back
and miss the Wolves' preseason finale. The Wolves will just have to turn to the other 700 wings they picked up in the offseason.
Dwight Howard told the
Orlando Sentinel
that a lot of NBA stars
get the kinds of Tweets LeBron freaked out about
. "All of us get those kinds of Tweets," Howard said. "People just feel that they can say whatever they want to say to us, and I don't respond. People are going to talk when they're hiding behind a computer or a cell phone. What's the purpose of letting that affect what we do?" Anyone else get the impression Howard's got a serious beef with everything LeBron does? He's one of the few guys to call out James on things. He's more vocal than Boston. Oh, and Heat play Orlando in a preseason game tonight.
The Bulls' chemistry
isn't really so much where it needs to be
, via the
Chicago Tribune
talking to
Derrick Rose
: ""I wouldn't say it's all the way there," Derrick Rose said. "But being on the court with the guys, I definitely know what their strengths are, where to give them the ball in certain situations, just the way they play."At practices, our second team beat (the starters) four or five days in a row. That competing will make us better and help the team gel quickly." It's interesting to hear that, but part of that is probably the disconnect with the departures of players who were closer last year. Something to watch as the Bulls go forward.
So
here's the Flex offense
. No, seriously, here's the Flex offense.
Sasha Vujacic
is now engaged
to Maria Sharapova, in case you needed further proof the universe is cruel and unfair.
Ron Artest
has
been given a "Year in Sanity" award
by Salon.com. So if the apocalypse shows up soon, don't say we didn't warn you.
Hear Dwight Howard. Hear Dwight Howard sing. Hear Dwight Howard
sing "All-Star" by Smashmouth
.