Jason Richardson and Zaza Pachulia suspended for Game 4 Sunday in Hawks-Magic series.
Posted by Matt Moore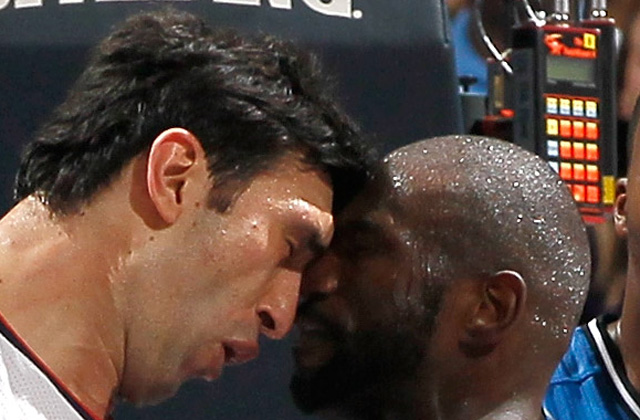 The NBA Saturday suspended both Jason Richardson and Zaza Pachulia for Game 4 of the Hawks-Magic playoff series Sunday in Atlanta. In the fourth quarter of Game 3, Pachulia became entangled with
Dwight Howard
, and swung an elbow to get him off. Richardson took umbrage, Pachulia then got into Richardson faced and headbutted him (slightly), drawing the suspension. Richardson then shoved Pachulia in the face, which is why he'll be missing Game 4's festivities. Good times all around. Here's video.
Pachulia's impact would seem to be the lesser, as he's a bench player with little offensive skill, and with the Hawks' depth at center. But as Kevin Pelton as Basketball Prospectus notes, Pachulia's impact overall may be greater.
The last two games, the Hawks have been more effective with Pachulia in the middle. During his 26 minutes of action on Friday, Atlanta was +7. Without Pachulia, Larry Drew will be forced to choose between putting Horford back at center and risking foul trouble or running out the sorry group of backup big men (Hilton Armstrong, Josh Powell and Etan Thomas) that Howard abused in Game One.
via
Basketball Prospectus | Playoff Prospectus: Winning Formula
.
Richardson is the
Magic
's best perimeter scorer outside of
Jameer Nelson
, but along with the rest of the Magic, he's struggled in this series. He's shooting 27 percent from 3-point range in this series, and that's been particularly harmful to the Magic's offense. Without him,
Quentin Richardson
will likely get more time, and he's played well in the first three games for Orlando. This could be a blessing in disguise for the Magic if it lights a fire under the Mgic's perimeter offense.
Pachulia is the person you can most easily point to to disprove the "soft Euro" theory. Three years ago, he got into it with
Kevin Garnett
, and he's been known to start conflict with anyone who wants it. He's representative of the Hawks in this series. Willing to battle with anyone from the Magic who are looking for a fight.