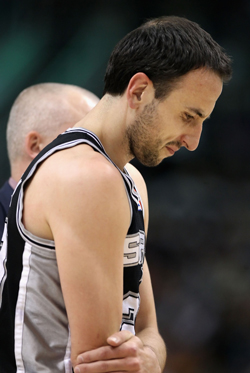 Posted by Royce Young
Virtus Bologna may have made a big splash recently with their major offer to
Kobe Bryant
, but they're also targeting another NBA All-Star. One with a prominant bald spot and a paralyzing step-back jumper.

Via an interview with DiarioShow.com via Sportando
, Ginobili confirmed that Virtus Bologna is the "only option" if he decides to play overseas during the lockout.
"I did not say NO to the proposal. In Bologna I had great time and my wife Marianela loves Italy. There is a possibility that I will join Virtus Bologna during the NBA lockout. I have to give an answer by the end of the month. I had also an offer from Brazil but if I leave San Antonio
Spurs
during the lockout, I am going to play only with Virtus Bologna. It would be just for few months and then I will be back to Spurs"
Obviously Ginobili, like a lot of other players, is willing to take his time in making a decision. There are more meetings and still time for a deal to get settled. But there's no doubt he's interested. Bologna apparently has a solid financial backing and is willing to pony up some solid money for a player like Ginobili.
Why it's the "only option," I don't know. But Ginobili's home country of Argentina doesn't exactly have a strong professional league and Bologna is one of Italy's larger clubs. Same goes for Brazil.
Ginobili is aging and has dealt with injuries in the past, so I'm sure he's a bit hesitant to that risk in playing overseas, but he'll get his contract insured. Like he said, it would just be a quick stint and he'd be eager to return to the Spurs.
My question is: Why not play with
Tony Parker
for his ASVEL club? Probably because Parker can't pay Ginobili anywhere near what Bologna is looking to, but that would be a cool wrinkle.