The struggling Phoenix Suns are weighing whether or not to rebuild, which could mean trading franchise point guard Steve Nash.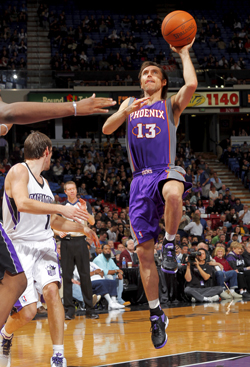 Posted by Ben Golliver.
Things are heading south more rapidly than expected in Phoenix, as the Suns have slipped out of the race for the Western Conference's final playoff spot, at least for the time being.
While Suns management was smart to dump
Hedo Turkoglu
in a December trade that netted them a solid center,
Marcin Gortat
, it came at the expense of a valued locker room presence,
Jason Richardson
. The move almost immediately set off speculation about what it meant for aging franchise point guard Steve Nash, who was close to Richardson and who has reached the point in his career where he doesn't have time for a rebuilding effort.
NBA Fanhouse reports
that the Suns are weighing the benefits of trading Nash, who clearly still has significant value around the league and has a reasonable salary ($10.3 million this year, $11.6 million next year) that ends after the 2011-2012 season.
While the 14-18 Suns made it clear recently that their six-player trade with Orlando was not a precursor to moving Nash, the option is being considered and they are, according to the source, "on the fence" about which direction to go. The next month will be key in the decision-making process, as there is a mixture of belief and hope that the additions of Carter, Mickael Pietrus and Marcin Gortat can fortify the defense and help turn the season around in time for a playoff push.
The site also mentions the New York
Knicks
, with Nash's former head coach Mike D'Antoni and former pick-and-roll partner
Amar'e Stoudemire
, as one possible trade partner.
There's not much mystery when it comes to the sort of teams that are closely monitoring the Nash situation, as any competitive club without a Hall of Fame-caliber point guard would stand to improve significantly by bringing him aboard. And the New York Knicks, according to a source with knowledge of their thinking, are most certainly still among that group.
Of course, these rumors have come up before, and have been
shot down repeatedly
.
What's different this time? Maybe nothing, but Phoenix is more desperate and directionless than it has been in years, so conversations about the future are totally understandable.
Nash's popularity and box-office appeal make trading him difficult, and you'd expect that Phoenix would demand a premium in return for parting with their team's centerpiece. For that reason, it's difficult to see Nash being moved prior to the trade deadline, unless things totally fall apart in the desert.
For his part, Nash has expressed frustration throughout the early months of this season, but he's remained a loyal soldier, never requesting a trade or even floating a desire to head elsewhere. For that, he's a better man than many NBA players, but he may wind up paying for his loyalty with more frustration.