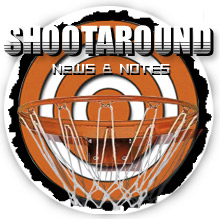 Knicks knocking at the Melo door again, Childress knocked out with a bad digit, and Evan Turner slapped in the face, all in today's shootaround.
Posted by Matt Moore
We'll have more this morning on a report from ESPN NY's Chris Sheridan that the Knicks
are back in the Melo chase
. One thought off the bat. They can trade for a player the
Nuggets
want more, but unless they land a draft pick they're still toast. The McGrady trade keeps stubbing Donnie Walsh's toe.
Knickerblogger is concerned that
Raymond Felton
may not be much of an improvement
over
Chris Duhon
. Last night was a particularly strong showing from Felton, and he looked very much like the kind of point guard the Knicks have needed for years.
A
breakdown of the postions
in Rick Adelman's system. The focus on the big in the pinch post is going to be why
Brad Miller
will be so comfy there.
Lots of coaches with health concerns this week. Doc Rivers had
a test come back negative for cancer
, which is great news. Doug Collins missed last night's Sixers game
while dealing with lingering effects of a concussion
.
Josh Childress
fractured a finger last night
and out at least a week but it won't be too long. It's ridiculous that these guys play at this level with broken fingers.
Ted Leonsis thinks
Josh Howard
is a respected leader
. There's lots of mockery this morning about that, but people forget that despite his off-court issues, he's thought of well by teammates, and that guys like
Stephen Jackson
are perennial captains for their teams.
Jerry West
thinks maybe he should have drafted
Amar'e Stoudemire
instead of
Drew Gooden
. In other news, I should have had oatmeal this morning instead of eating rusty nuts and bolts from a '75 Chevy.
Al Harrington
says
he'll be ready for opening night
. No word on whether his defense is making a similar commitment.
Marcus Thornton
's in
a slump, which shouldn't surprise people
. Shootres in their second year take a step back sometimes, and the fact that he's got a new coach and a new offensive system probably complicates things as well.
And here's Evan Turner getting slapped with baby powder. So that happened.