Posted by Ben Golliver.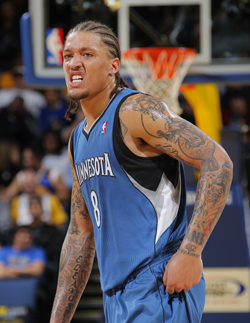 Minnesota
Timberwolves
forward
Michael Beasley
would like to kindly submit an entry for consideration into the the pantheon of memorable player slogans to emerge from the ongoing NBA lockout.
To recap, we've got
"How u"
by Roger Mason,
"Let us play"
by
Derek Fisher
,
"Love the game"
by Jordan Brand and
"Ready to fold"
by
JaVale McGee
.
Beasley's submission: "Kind of retarded." Oh boy.
Yes, that's how the problematic chucker chose to describe the current state of negotiations at a charity baskedball game in Oklahoma City,
reports the Associated Press
.
"Fighting over 3 percent, that's kind of retarded to me," said Michael Beasley, who scored a game-high 56 points. "But it is what is. We'll come to an agreement."


"The quicker we can get a deal done, the better," he added. "Like I've been saying before, the main ones suffering are our fans."
Let's just put aside the obvious insensitivity and political incorrectness to focus on his larger point, whatever that might be. Seriously, I'm not sure I've ever heard someone refer to a billion dollars and the structure which will govern their livelihood for the duration of the career so dismissively. But, hey, Be Easy, right?
Frustration is one thing, and everyone involved is feeling frustrated, but this is the wrong way to express it. Whether he realizes it or not -- probably not -- Beasley's "I don't care about the details, let's just get it done" attitude is exactly the sentiment the NBA owners are banking on. That's music to their system redesigning ears.
Uninformed apathy and blind faith in a resolution are major reasons the owners can move forward with a plan to cancel the early portion of the season, costing players paychecks and increasing the urgency factor. Pretty soon, "We'll come to an agreement" will transform into "We need to come to an agreement!" and that will morph into "SERIOUSLY, GUYS, WE NEED AN AGREEMENT" and before you know it the players union leadership is catching real pressure from two sides.
We shouldn't expect anything less from Beasley, though, as his
marijuana bust
,
face mushing of a fan
and
bait-and-switch All-Star Classic
reminded us this summer that he lives in his own universe.
In a perfect twist,
SoleCollector.com reported
Tuesday that Beasley can't even keep a shoe deal, getting dumped by adidas recently. In light of that, maybe it would be best for Beasley to let Billy Hunter and Derek Fisher handle the heavy lifting from here on out.
Related
: Miami
Heat
forward
LeBron James
calls a reporter's question "retarded"
during the NBA playoffs.