Posted by Ben Golliver.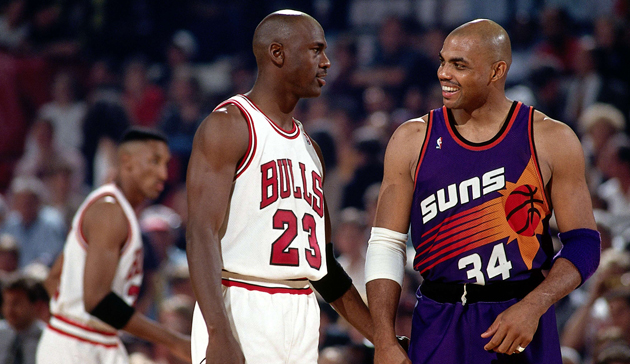 Nobody understands Michael Jordan the competitor better than his good friend, Basketball Hall of Famer and television commentator Charles Barkley.
Jordan, majority owner of the Charlotte
Bobcats
, has drawn criticism from current NBA players who believe he is a "hypocrite" for taking a hard-line stance against the players during these negotiations when he famously took a hard-line stance against the owners during similar negotiations during the late-1990s.
In an ESPN Radio Chicago interview --
via SportsRadioInterviews.com
- Barkley said players who are critical of Jordan are "silly."
On Michael Jordan's role in the negotiations and the Heat he's taking for his tough role in the negotiations

"Well first of all, don't believe everything you hear. But Michael is an owner now. He can't sacrifice his franchise. Listen, he's the reason that all us players are making the money that we are today. But with that being said, he's an owner now, he's got to do what's best for his franchise. I think it's silly for players to think MJ should sacrifice the whole NBA for the rights of the players. He's not a player anymore. When he played, he spoke for the players, he made sure every player got paid an enormous amount of money, but right now he's an owner. That being said, I've been very disappointed with some of the owners as far as — look, this is a partnership, and it's not like a regular business. I don't think the players should never go lower than 50-50. I think they should take 50-50, but the owners I think want even more. And that's what disappoints me, because the players are clearly trying to make a deal. But I think the union wants to break the union for good and get a ten-year deal where they make all the profits."
Not only did Barkley's Phoenix
Suns
get toasted in the 1993 NBA Finals by Jordan's Chicago
Bulls
, the two stars have enjoyed gambling together -- whether on the golf course or at the card table -- for decades. Watching a guy refuse to blink during last-second shots, putts with thousands of dollars on the line and all-in calls worth untold sums gives you a pretty good idea about how he might act in a business negotiation worth billions of dollars.
And how might Jordan act? Well, coldly, ruthlessly and, some might say, selfishly, of course. Jordan, a man who never forgot a slight and cherished his grudges, wants to win at all costs, no matter the venue or activity. Barkley, who has witnessed that first hand and suffered because of it, long ago took that for granted.
Of course, it's important to remember that
many of the players who are criticizing Jordan
-- including Indiana
Pacers
second-year guard
Paul George
and Golden State
Warriors
rookie
Klay Thompson
and -- were literally toddlers when Jordan scored 55 points in Game 4 of the 1993 NBA Finals. George and Thompson, both born in early 1990, had each just turned 3-years-old. How could they possibly know what Barkley knows about Jordan?
Does that diminish their original accusation that Jordan has acted hypocritically during labor negotiations over the last 15 years? Not totally. To outsiders, including today's players, Jordan clearly took two diametrically-opposed stances. But those stances originate from the same place: unencumbered self-interest.