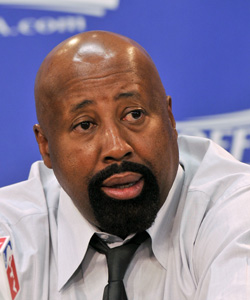 By Matt Moore
The
Knicks
have decided to hire a defensive specialist as an assistant coach to see if he can manage to stop the bleeding of the Knicks' defense while they keep the parry and thrust of the offense going with Mike D'Antoni's work. The plan is to have a "defensive coordinator" type guy on staff to provide insight into that end so that D'Antoni can do what he does best, focus on socring tons of points. The Knicks are taking interviews, and it looks like former
Hawks
head coach Mike Woodson is on the list,
via the
New York Post.


Woodson would be an excellent fit at the position. He knows how to coach both stars and role players, he's a former player, he was drafted by the Knicks and he can balance a line between discipline and support. The Knicks would do well to hire Woodson.
At the same time, there's only so much an asssistant coach can do. What the Knicks really need is better personnel, particularly at the rim. Trading
Timofey Mozgov
in the Melo trade was particularly harmful. Yes, he's most known for getting dunked on by
Blake Griffin
and has a long way to go in every area of his game, but Mozgov showed a willingness to attack defensively at the rim, the Knicks' softest spot. Woodson can improve the talent he's got, but he can't make miracles. Maybe most interesting is what he can do with
Carmelo Anthony
and
Amar'e Stoudemire
, the two biggest minute guys on the Knicks and two guys who need to improve their defense immediately.